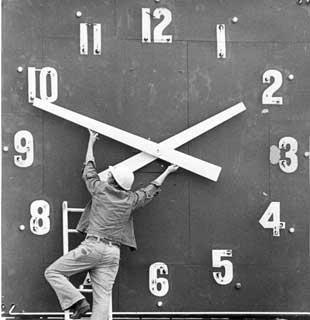 Here are what we believe are the 4 core time management skills:
1. A mindset of Self-Management not Time Management
2. Use a structure
3. Whole in ONE
4. Use a trigger
"Interesting," I hear you say (well that is what most people tell me when I list these core skills.)
And then they ask "what do these have to do with time management?"
Great question.
Let me give you an overview of how these skills fit in
(for more detail you can click on the link at the end of the article).
1. A Mindset of Self-Management
The term Time Management allows us to think that we manage time — BUT time can't be managed!
The typical mindset on Time Management is about applying techniques and tips – things outside of you.
But the first step you must take is to realize you have to manage yourself (self-management) for any approach to work.
Time is! It just is! 24 hours a day. 1400+ minutes every day.
Time can't be managed but you can.
Change your mindset to focus on managing what you do AND don't do in a given period of time.
2. Use a structure
My coaching experience has made one thing very clear – every effective person has some form of structure.
By structure I mean a way that you look at a block of time.
Usually this is a week, though it can be a month, a day, a quarter or a year depending on your style and your role (note: I discourage anything less than a week).
Structure allows you to gain a sense of control and yet is also INCREASES flexibility.
Plan out a week on one page as if it were your ideal week.
Include ALL aspects of your life, not just work.
Compare this week to your usual week.
3. Whole in ONE
Now I have got you thinking – about golf and that maybe we can't spell!
Actually what I referring to here is having your whole life — appointments, tasks and key notes in ONE place.
Every person I speak to today has multiple places for notes and appointments.
This is one sure way to waste time! I strongly suggest you do not have different places for personal and workappointments and tasks.
Your whole life needs to come together as one lifeand you need to SEE IT in your structure as ONE Life.
Get your WHOLE life in to ONE place.
One way to start this process is to use a time management planner
4. Use a Trigger
Time Management Skill 4 is Use a Trigger.
What does a trigger have to do with time management skills and finding more time? Heaps!
One of the biggest challenges people face when trying to use a structure is to remember to use the structure.
This is where I have found a trigger makes a massive difference.
So what is a trigger?
It is something you already do that you link to your time structure.
The most common tool for creating a structure is a diary.
People who have not been using a diary much struggle to remember to use and refer to the diary every day.
Use your trigger to remind you to use/refer to your diary or time managementsystem.
Author: Michael Erwin
Article Source: EzineArticles.com
© 2011, ©Active Consultants 2011. All rights reserved. Copying in part or in entirety only permitted by written consent
Republished by Blog Post Promoter