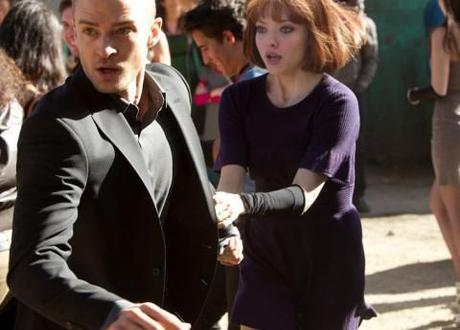 Justin Timberlake runs a lot in this film — because he's running out of time... Photo Credit: 20th Century Fox
"All my possessions for a moment of time" — allegedly the last words of Queen Elizabeth I. If she existed in the world of writer director Andrew Niccol's (Gattaca, Lord of War) new film In Time, she wouldn't have to worry so much: time is literally money in this dystopian vision of the future, with the poor struggling for extra time while the rich enjoy lifetimes hundreds of years long. Oh, and everyone stays 25 and beautiful.
The action has struggling poor-boy Will Salas (Justin Timberlake) coming across a suicidal (and time-rich) Henry Hamilton (Matt Bomer) who gives him a hundred years before jumping off a bridge. Salas is then accused of murdering Hamilton, sees his svelte young mother (Olivia Wilde) die and goes on a crusade to right the iniquities of the system. He manages to kidnap richest-man-alive Philippe Weis's (Vincent Kartheiser) sexy daughter Sylvia (Amanda Seyfried) and dole out time, Robin Hood style, to the masses, all the while pursued by "timekeeper" cop Leon (Cillian Murphy) and a team of "Minute Men" gangsters lead by a sadistic psycho (Alex Pettyfer).
The critics love the film's conceit, but the execution seems to have left most wanting. Here's the verdict from legendary critic Roger Ebert and his cohorts:
'Beautiful cast' and ideas, but 'shortcomings' are hard to hide. "Refreshing" to see a "low-tech" sci-fi film with a strong concept these days opined Todd McCarthy at The Hollywood Reporter — still, the film "feels undernourished in other ways that are not as salutary, preventing the film from fulfilling its strong inherent promise."
'Niccol doesn't handle actors well'. Models are left to "flail" in shots and Wilde is underused — still, Variety's Peter Debruge still had time  for the film's vision of the future that counters "Ayn Rand on her own turf." Adjudged Debruge: "the premise is rich enough to engage, making it easy to forgive Niccol's indulgences."
'Unanswered questions abound'. Ebert at The Chicago Sun-Times didn't like the characters ("the only character of personal interest is Henry Hamilton"), the "standard elements" the film is constructed from and the plot-holes. Furthermore, he argued that it is "disappointing" to find Timberlake in a "role that requires less" than did his character in 2010's The Social Network.
'The stupidest sci-fi premise in recent memory'. Steve Persal of The St. Petersburg Times left the cinema wanting his 109 minutes of film time back. He laughed at Timberlake's "running" and "angry glare" — "we've finally discovered something the pop icon can't do well, and shouldn't try again", he sniped. The effects, the mechanics of time transferral ("what appears to be a fraternity handshake with a gurgling sound effect") and the lack of explanation in this "gimmick" all provoked Persal's ire.