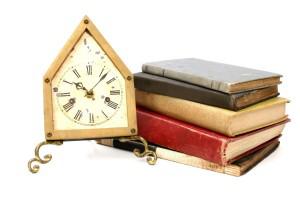 "Therefore, to one who knows the right thing to do and does not do it, to him it is sin." James 4:17
Christian writers have to make time for God – it's part of the job description. What do you do when you get a story idea while reading Scripture? I know how some would answer this question – stop everything and chase that thought! Others would jot down the verse reference and a few keywords and move on.
As for me, unless it's time specifically allocated for ideation, I just can't do it. Once in a while I'll affix a color-coded tape flag pointing to the verse with a thought of returning to it, but for the most part, I leave it alone. If you're asking what kind of writer lets new ideas go untapped, I'll tell you: a convicted one.
A couple of years ago, God dealt with me on priorities and distractions. As we say here in the southern United States, He took me behind the woodshed, and if I'd known Hebrews 12:6 back then – "For those whom the Lord loves He disciplines, and He scourges every son whom He receives" – I'd have certainly taken comfort in it. Alas, I didn't.
I emerged from that difficult time with the understanding that even though He created me as a writer, that was never His first priority for me. In the Lord's eyes, I am His before I am anything else. If I ever doubt it, Ephesians 1:3-4 is there to remind me: "Blessed be the God and Father of our Lord Jesus Christ, who has blessed us with every spiritual blessing in the heavenly places in Christ, just as He chose us in Him before the foundation of the world, that we would be holy and blameless before Him."
In light of this perspective, God claimed the first slot in my weeks in the form of Sundays as a Sabbath rest, and in my days with the practice of a daily morning quiet time, and in my writing with the new habit of opening every writing session, no matter how insignificant, with prayer.
I began to see how even positive things can become distractions, and that allowing anything to take God's position in my heart or time amounts to idolatry. Freshly disciplined in both senses of the word, the warning of James 4:17 suddenly took on a distinctly personal tone: "Therefore, to one who knows the right thing to do and does not do it, to him it is sin."
To those who struggle to set apart time for God, or who fight distraction when you do, let me encourage you. According to Ecclesiastes 3:1, "there is an appointed time for everything," and Psalm 84:11 assures us that "no good thing does He withhold from those who walk uprightly." Tempting though it may be to drop everything for a new idea, if it's a good one, it will wait.