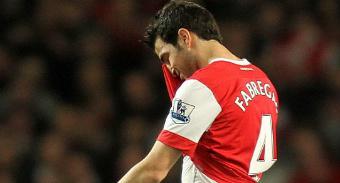 Summer is known as the time for vacations, the beach, and preseason football. Unfortunately, this also means more nonstop speculation regarding whether this will be the year that Cesc finally leaves Arsenal for Barça. Fans from both clubs are tired of going through this every summer and the blame falls on Cesc.
There is no need for a long detailed explanation or background information about Cesc and his origins. Everyone knows that Cesc came through the Barça academy with Pique and Messi as his teammates. Everyone knows he took a golden opportunity to play for a club that was at the time stable, playing beautiful football and winning trophies. Barça, on the other hand were going through the dark ages of the Gaspart presidency era and Cesc took his chance and left before the new regime of Laporta's presidency took place back in 2003.
It's also no secret to see what has happened since 2003. FC Barcelona went on to win 5 league titles, 3 UEFA Champions Leagues titles and other honors. Arsenal, on the other hand, have been going through a dry spell ever since they won the FA Cup back in 2005. There has been speculation about Cesc's return to Barça ever since Cesc shined for Arsenal. He has already faced his former club on three different UEFA Champions League campaigns where he ultimately saw his side get eliminated. Sadly, we have endured a lot of talk about Cesc's arrival and it has gotten tired. That sentiment exists between both club's fans.
Arsenal fans are tired of the constant rumors, which Cesc is partially to blame for. Barça fans are tired of reading that he is coming over and over again only to see other players arrive instead. Entering this current summer transfer period, many believed Cesc would be the first signing. Instead, Alexis Sánchez was the first player Barça signed this summer. There is talk now that Cesc feels that current FC Barcelona president, Sandro Rosell, doesn't seem too interested in signing him. The problem is both Rosell and the club know that they have the upper hand in this deal and will not be held hostage by Arsenal and their demands.
Cesc's main problem is he "allegedly" wants to leave Arsenal and on good terms. Sadly, that is impossible. You cannot expect someone to end a relationship with their current partner and return to their first love without hurting some feelings. Cesc can tell Barça players how much he misses Barcelona and how he would love to come back and play under his idol, Pep Guardiola. However, he is clearly naive if he thinks Barça is going to do what Real Madrid when they signed Cristiano Ronaldo and Kaka.
Real Madrid were desperate to recreate their team. I won't say rebuild because Madrid was not in dire straits that demanded complete upheaval of the squad. Madrid went and paid whatever teams wanted for their star players. Barça are not in that similar situation. They are doing fine without Cesc and they are also trying to be a bit more conservative with their spending. Sure the financial status of FC Barcelona is not as good as Arsenal's but they are working hard to ensure that they become more like Bayern Munich in terms of success and financial stability. So no, Barça will not pay whatever amount Arsenal wants but rather, will negotiate to get the player they want at their own price.
Prior to being elected as president of the club, Sandro Rosell said signing Cesc would be easy. Obviously people laugh that claim following last summer's and this summer's attempt at signing Cesc. However, what Rosell meant that Barça are in a great situation to sign Cesc but on their terms only. Rosell knows that his club has the upper hand if a player wants to join their team. Just look at the Alexis Sánchez transfer where it was no secret that Sánchez wanted to join Barça over other teams. Rosell's only mistake was not taking Cesc's good heart, or to some, his lack of courage to do the same thing.
Cesc wants to go to Barça but he doesn't want to hand in a transfer request and it is rumored that this is something Pep does not want him to. Sadly, Cesc has to realize that he can't leave without doing that. There is a stalemate right now between the two clubs regarding his transfer. Arsenal is demanding a high fee, and rightfully so, even though some of my fellow Barça fans disagree. Barça is trying to lower the transfer fee and they have every right to do so. That is the power of negotiations. They are not desperate to sign him so they don't have to meet Arsenal's offer. Thus, Arsenal have every right to keep Cesc.
Arsenal doesn't owe Barça anything even if some Cules claim the club "stole" him away from La Masia. Arsenal did pay Barça a fee for his switch to the London club and ultimately, Cesc made a decision that has benefitted him financially and performance wise that saw him get called up as a part of a Spanish national team that won the Euro Cup and the World Cup. However, if Cesc is unhappy and wants out so he can return to Barcelona, then he is the only one who can make this transfer happen. If he remains on the fence, then Arsenal have no incentive to sell him.
The bottom line is simple. If Cesc wants to leave, then he has to hand in a transfer request. If he doesn't, then both sides will not come to an agreement and Cesc will remain in Arsenal. Unfortunately, if he does remain in London, both clubs and their fans will go through this dance again next summer and time is running out for Cesc. With Thiago's performances in the current club's preseason campaign, the chances of Cesc joining in the future may be shrinking if Thiago goes on to perform well in the upcoming season. Cesc's window of opportunity is open, but it is slowly closing.