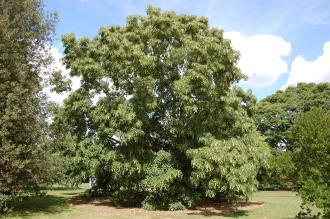 Tilia oliveri (15/08/2015, Kew Gardens, London)
Position: Full sun to partial shade
Soil: Moist, well drained
Flowering period: Mid summer to autumn
Eventual Height: 25m
Eventual Spread: 15m
Hardiness: 3a, 3b, 4a, 4b, 5a, 5b, 6a, 6b, 7a, 7b, 8a, 8b, 9a
Family: Malvaceae
Tilia oliveri is a fast growing deciduous tree with an irregular to domed habit. Its mid to dark green leaves are cordate with serrulate margins, densely white-hairy underneath, are up to 10cm long and 7cm across. Its bark is dark gray and deeply fissured with age. Its hermaphroditic white/ yellow flowers are borne in cymes of up to twenty. Its fruit are drupes which are up to 1cm across.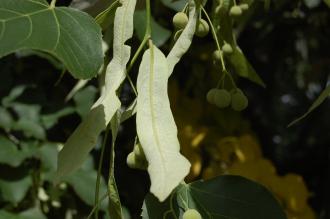 Tilia oliveri Fruit (15/08/2015, Kew Gardens, London)
Tilia oliveri, commonly known as Oliver's Linden, is native to eastern Asia, including China. In its native habitat it grows in mixed woodlands.
The etymological root of the binomial name Tilia is the ancient Latin name for the Lime Tree. Oliveri is named after Daniel Oliver (1830 – 1916), an English botanist.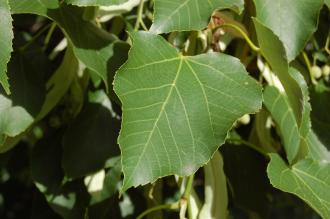 Tilia oliveri Leaf (15/08/2015, Kew Gardens, London)
The landscape architect may find Tilia oliveri useful as an park specimen tree. This tree's roots are tolerant of disturbance.
Ecologically, Tilia oliveri flowers are attractive to pollinating insects, however its flowers may be toxic to certain species of bees.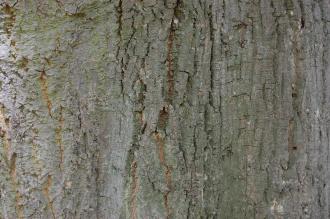 Tilia oliveri Bark (15/08/2015, Kew Gardens, London)
Tilia oliveri prefers moist, well-drained soils. It tolerates most pH of soil, although it prefers an alkaline pH.
Tilia oliveri requires little maintenance. Removal of dead or damaged material can be carried out from mid-summer to mid-winter to minimise wound bleed. This tree can withstand hard pruning.

Landscape Architecture