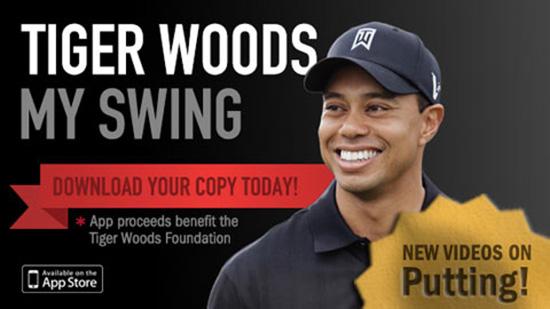 Who wouldn't want financial advice from Warren Buffet, or swimming lessons from Michael Phelps; similarly, who wouldn't want swing tips from Tiger Woods?  Now, with the launch of their new campaign, the Tiger Woods: My Swing mobile app will feature video lessons from Tiger Woods himself, the #1 golfer in the world.
With this new improvement to the app, it has been nominated for 'Best Sports App' in the 17th Annual Webby Awards.  Selling at a price of $4.99 for the iPhone app (available through iTunes) all proceeds will go towards supporting the Tiger Woods Foundation, which ultimately helps young people pursue their education.
Here's the full press release issued today: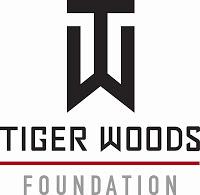 IRVINE, Calif. (April 10, 2013) – The Tiger Woods Foundation is launching a new campaign with Tiger Woods: My Swing that will update the mobile application with monthly video lessons focusing on short game techniques. Each month, beginning today, new video lessons from the world's #1 golfer, will be posted within the app that focus on chipping, putting and bunker play. The first update covers putting, including ball position, eye line, toe line and stroke line, along with bonus footage from Tiger discussing warm-up routines, preferred golf courses and his favorite sports teams.
Adding to the excitement of the new campaign, Tiger Woods: My Swing was also nominated for Best Sports app in the 17th Annual Webby Awards. Hailed as the "Internet's highest honor" by The New York Times, The Webby Awards is the leading international award honoring excellence on the internet. The 17th Annual Webby Awards received 11,000 entries from all 50 US states and over 60 countries worldwide. My Swing is up against four other sports apps: ESPN's College Football, BBC Olympics; NBA Digitals NBA Game Time and NCAA's March Madness Live.
"I'm always pushing myself to get better, and looking for ways to improve my game. My Swing gives me the chance to share with fans some things that I've learned throughout my career," said Woods. "The app helps golfers evaluate their swing and find ways to improve without the use of expensive equipment or relying on another set of eyes. I'm excited about the new video lessons and hope my fans find them beneficial to improving their short game," said Woods.
The focal point of the app is swing analysis, and golfers can use this technology to capture video of their swing, evaluate it, and compare it to Tigers' or one of their friends. Woods serves as a virtual coach, teaching users how to use swing-line analysis while providing tips on specific areas for improvement. The app updates also make the ability to switch between recording left and right handed swings easier, adding retina display and iPhone 5 resolutions. The Tiger Woods: My Swing App is available for $4.99 (iPhone and iPod touch) and $9.99 (iPad2+) from the Apple App Store or at

www.itunes.com/appstore

.
Proceeds from the sale of Tiger Woods: My Swing benefits the Tiger Woods Foundation, which help young people go to college. To learn more about the app, visit www.tigerwoodsfoundation.org.
Fans can vote to help Tiger Woods: My Swing win the Webby's Peoples Voice Award by clicking here: http://pv.webbyawards.com/nominees/mobile-apps/handheld-devices/sports. Voting ends on April 25, 2013.
ABOUT THE TIGER WOODS FOUNDATION At the Tiger Woods Foundation, we believe every child deserves a shot at college. Designed to break through a culture of low expectations, our college-access programs reach underserved youth in all stages of academic life. For scholars in grades 5-12, the Tiger Woods Learning Centers provide hands-on experiences in science, technology, engineering and math coupled with college preparation workshops to create a unique environment focused on college and careers. The Earl Woods Scholarship Program is an unparalleled network providing admissions counseling, college scholarships, dedicated mentors, specialized internships and vital workshops. Receiving individualized support, our bright young scholars are succeeding at prestigious universities such as Georgetown, USC, UC Berkeley, UCLA and Harvard. For more information on our programs, please visit tigerwoodsfoundation.org.