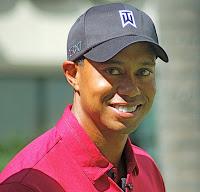 By now, most fans interested in Tiger Woods Masters menu already know what the Cablinasian is serving...does it make you hungry?
FYI...As defined by Wiktionary.org, "Cablinasian (plural Cablinasians) (rare, of Tiger Woods) A person who is Caucasian, Black, American Indian, and Asian."
The Champions dinner is a mix of sushi and sashimi, fajitas with possible milkshakes for dessert - that's fish, meat, and vegetables with a slider of milk at the end of the meal to coat the stomach lining. https://www.usatoday.com/story/sports/golf/2020/02/25/tiger-woods-reveals-champions-dinner-menu-masters-2020-week/4868956002/
To be fair, Augusta National will prepare this meal to its highest level but is this what you would serve your guests at one of the most sought-after tables of the year?
I guess that the winners will be happy to appear at the Champions dinner table no matter what is served no matter what the possible side effects will be on Wednesday morning! Guys, some advice...keep Pepto-Bismol on hand.
That being said, here is the menu, in the words of Tiger Woods,
"Being born and raised in SoCal, having fajitas and sushi was a part of my entire childhood, and I'm going back to what I had in 2006," explained Woods, a five-time winner at Augusta National. "So we'll have steak and chicken fajitas, and we'll have sushi and sashimi out on the deck, and I hope the guys will enjoy it."

The Tiger Woods Masters menu from 1998, back when the champion was just a teenager included cheeseburgers, chicken sandwiches, french fries, milkshakes. In 2002, Woods decided porterhouse steak, chicken with a sushi appetizer.
If given the opportunity, what dishes would you serve at the Masters Champions Dinner?