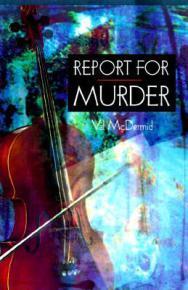 Originally hired to write an article about a fundraising gala at a girls' boarding school, struggling journalist - and self-proclaimed "cynical socialist lesbian feminist" - Lindsay Gordon is embroiled in a murder investigation when the fundraiser's star, renowned/reviled cellist Lorna Smith-Couper, is found dead, garrotted by her own cello string. Lindsay digs into the murder with the help of playwright and school alumna Cordelia, and romance slowly blooms between them. But Lindsay's interest in finding the killer takes on new urgency when her friend Paddy, a housemistress at the school, becomes the police's chief suspect. Through interviews with the many people who seemed to have motive to do away with Lorna, Lindsay attempts to unravel the mystery and unmask the murderer before it's too late for Paddy.
Overall, this was an enjoyable read. McDermid's mystery novels are engaging: they're the kind of mystery novels that you end up racing through in one go, hanging on every word until the very last sentence. She has a flair for putting characters in peril and deftly pulling them out in unexpected ways, and Report for Murder, full of fun twists and turns, is no exception. And despite the fact that it was published in 1987, it doesn't feel too dated (except when Lindsay is phoning in her reports to her editor).
The novel is McDermid's first published work though, so it doesn't showcase all of her usual fluidity with the vagaries of the murder plot. The drama occasionally felt heavy-handed, and many of the characters' motivations did not feel particularly believable. Lindsay's own personality occasionally felt heavy-handed as well (at one point, she drives several hours away to confront a murder suspect face-to-face, alone, without telling anyone where she is going). At times she is a one-dimensional character: she has odd conversations with other characters in which she shares her ideals and a values in a way that feels wooden and bland. And the novel is driven much more by talk than by action - which makes sense, given that Lindsay is a journalist.
Despite these flaws, Lindsay is an engaging character, and the novel pulls the reader in. Lindsay's romance with Cordelia is one of the novel's strengths: though it ties in only minimally with the murder plot, it exists cohesively with the mystery, fleshing out Lindsay's character and offering a fitting counterpoint to the drama of the investigation. Though this blossoming relationship is not the novel's focal point, it is nimbly woven into the story, and doesn't feel forced or extraneous.
If you're a fan of the lesbian mystery novel genre, Report for Murder is worthy of your time, though I can't speak for the rest of the Lindsay Gordon series as I have yet to read any of the other novels. I am working my way through Val McDermid's novels (based on their availability at my local public library) and I recommend reading some of her other works as well, though you can skip the incredibly transphobic The Mermaids Singing. The Kate Brannigan series has a lively (albeit straight) protagonist and some lesbian supporting characters, and some of McDermid's standalone novels have lesbian characters as well:boasts a cast full of queer women, (both protagonists and antagonists) and an excellent unputdownable mystery to boot.
[Trigger warning for suicide of a secondary character.]