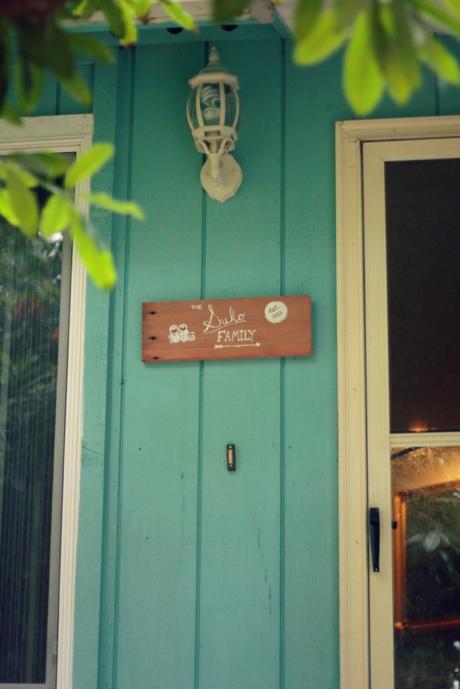 Hello! First of all, while I was gone Jaclyn over at Beauty and the Binky posted a little motherhood interview featuring me, as part of her Motherhood from Every Angle series! It was so fun to participate and share the mom-life part of me more. You can see it here.
It feels like it's been ages since I've posted anything (because actually, the last outfit photos you saw were from July 1st, which was over two weeks ago), but here we are finally settling in to our new house! Which obviously just means we finally got internet. Because we don't have living room furniture yet, except for a Papasan chair, and the bedrooms are still crazy because… we lack dressers and shelves for all of our stuff.
But we're getting there! I wanted to share the parts of the house that I have been able to finish up with unpacking and decorating. And while they're still all works in progress decoration-wise (eventual home decoration goals, right here), I love the way our little space is coming together!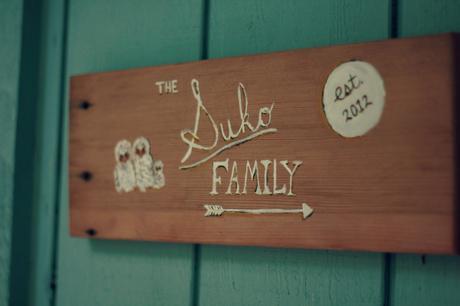 Last night I handpainted a wood board that my husband brought home from work so that we have a little name sign outside our door. We live in a duplex, and while it's fairly obvious which side we live in just from our cars, I wanted to have something signifying that we live here! Because the duplexes aren't labeled A and B (as they are in our mailboxes) so should our cars not be there, we want people to know which side is ours. And also, I love family name signs, so… we needed one.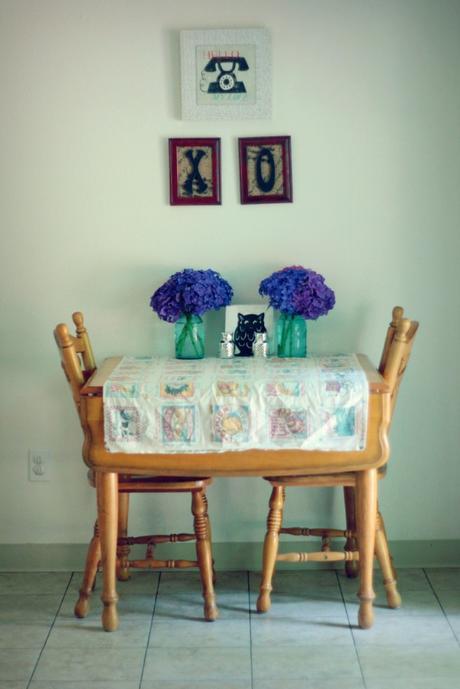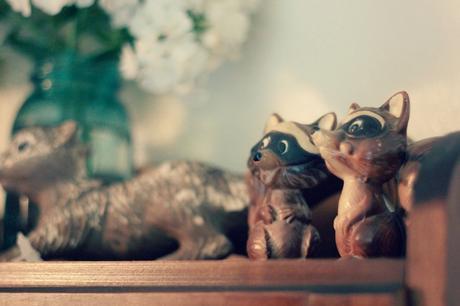 My favorite part of the house, probably because it's finished so far as decorations and furniture, is the dining room/kitchen area. Our living room will be fantastic once we get a couch and some bookcases and a good lamp, because we have a working brick fireplace that I am SO excited about, and a really great huge mirror above the mantle. But right now it's just a big empty space with 12 boxes full of books, a blanket chest, and a papasan chair in the corner. Not exactly homey when you walk in.
But I love our simple little dining room table, especially with my grandma's table runner and my mother-in-law's flowers on it, and I love my china cabinet/buffet (which was my grandma's) with its display of my slowly growing collection of salt-and-pepper shakers, and my amalgamation of cookbooks (I have more, they're just not out).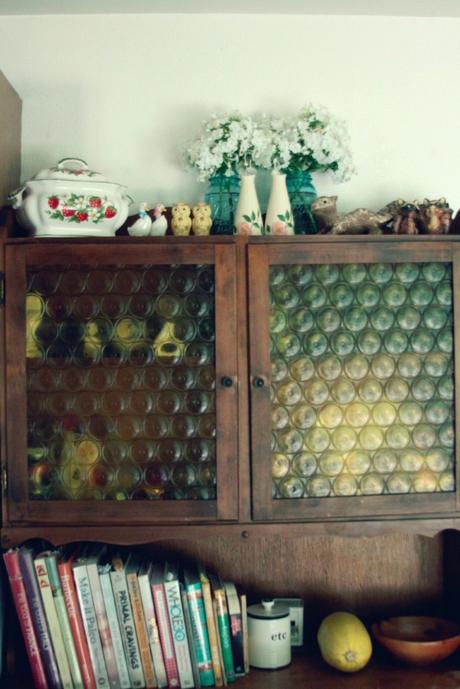 And, while the kitchen is not a lot to look at yet, I love the little things that signify it's ours. The plants in the window (basil and an unidentified house plant someone gave us at our first house), my set of utensils and my mixer on the counter, my dishes, Asa's first art on the fridge. It's amazing how much more you appreciate the little things about having your own place after a year and a half of living with other people in homes that are not yours.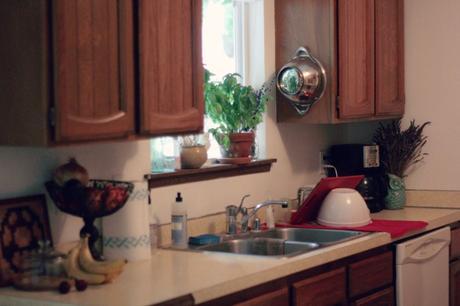 I hope you have all been having a great July so far! I can't wait to update the house as we get more settled in, and start sharing home life tidbits as well as my usual fashion posts! And also, I can't wait to share my first style post from this house. There are some great areas to shoot outfits here!
Happy Thursday!

Bloglovin|Facebook|Twitter|Pinterest|Instagram|Fiction Press|Etsy|Photography