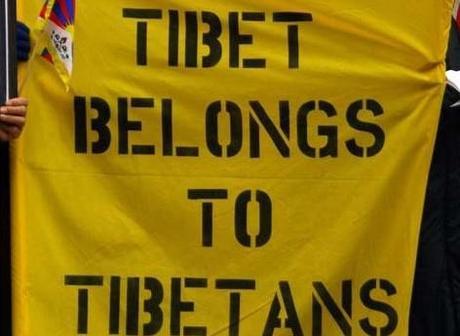 Protests have spread as far as the US. Photocredit: Alan chan http://flic.kr/p/4z9GGo
For the tenth time this year, a Buddhist monk has burned himself in a protest against Chinese rule over Tibet, the Associated Press reported. The Sichuan region has been the site of most of these dramatic declarations of protests, which have been carried out by monks "fiercely loyal" to the Dalai Lama, the exiled Buddhist leader. The Chinese government has accused the Dalai Lama of supporting this "terrorism in disguise", although his self-appointed government-in-exile has described the acts as "tragic." But what do these dramatic changes mean to the Himalayan country?
Achieving the goal. This string of protests represents a "darker, more violent and more desperate" phase in Tibetan rebellion, said Mark Mackinnon in The Globe and Mail. He called them "something completely new", that has the Chinese authorities "spooked", and drew the parallel with the Arab Spring uprising, which was set in motion by Mohammed Bouazizi's self-immolation in Tunisia. Prominent Tibetan radical Jamyang Norbu wrote even before the latest suicide that the self-immolations "were revolutionary acts of ultimate sacrifice to rouse the Tibetan people to action, in much the way as Buazizi's self-immolation, woke up the oppressed people of the Middle East from many many decades of fear, apathy, cynicism and weariness."
 "The spate of self-immolations seems likely to achieve the goal of drawing attention to the Tibetan cause, which is often pushed off the agenda as foreign leaders – some of them seeking financial help from the cash-rich Chinese government – seek to stay on Beijing's good side", wrote Machinnon in The Globe and Mail.
Most sacred sacrifice. Tibetan writer and activist Tenzin Tsundue wrote in the Hindustan Times that for a Buddhist, to take one's own life "amounts to destroying what is most sacred", so these protests are the most extreme acts possible.
A chain reaction. The string of suicides has given "new, more radical momentum" to the Tibetan movement, claimed Barbara Demick for The Los Angeles Times. She reported that China's "heavy hand" would be unlikely to stop the fires. Tibet expert Dibyesh Anan said there is a "copycat dimension to this", whereby each immolation encourages others to show "they are just as patriotic." He added that the acts indicate that young Tibetans are resisting the Dalai Lama's teachings of nonviolence.  "He has always said that people should not harm themselves or others", Anand said. "People respect him, but they are frustrated and they want to protest."