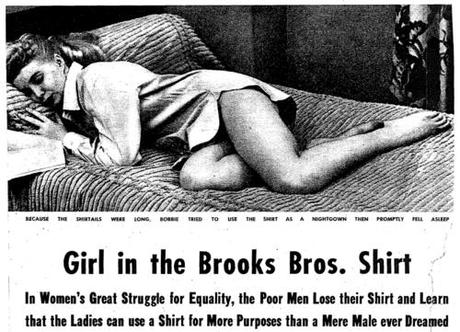 Setting aside for a moment the not-so-subtle sexist undertones of the image above, I found this 1949 newspaper clip about women and Brooks Brothers amusing. The clip can be found framed and hung at Brooks Brothers' London flagship. Underneath the lead image, a caption reads: "Because the shirttails were long, Bobbie tried to use the shirt as a nightgown then promptly fell asleep." Yes, I'm sure that's what she did, dear author, half naked right in front of this photographer.
Undoubtedly, this was a smartly presented piece of marketing using sex appeal, which is amusing for a company that - particularly at that time - was known for its conservatively cut tweeds, foulard ties, and staid argyle socks. Now, whether it's actually true, as the article suggests, that women were coming into Brooks Brothers to raid the men's department is unclear. It is clear, however, that Brooks tried to market this idea. The long-legged Bobby Trelease you see above, who came from New York City's Barbizon Model Agency, worked as a model and Broadway stage dancer at the time. For this particular job, she was given a Brooks OCBD and asked to do with it whatever she pleased. Apparently she found a dozen uses, and the more practical examples were photographed and shown in newspapers' pages. Those included: a nightgown, a housecoat, and a regular shirt for the office. Who knows how many women actually bought OCBDs for these purposes.
There was something, however, published seven years later in the New York Times, claiming that women have indeed been known to raid the men's department. The earliest example given was in the 1920s, when women came for men's baggy polo coats until something was scaled down just for them. Then, in the 1930s, they came for the Shetland sweaters, again until something was scaled down just for them. The most amusing example, however, is perhaps the pink OCBD. Three weeks after they introduced the women's version, Brooks Brothers' president at the time, Mr. John C. Wood, issued the following statement:
"About a year ago, Brooks took cognizance of the fact that more and more of its pink shirts for men were finding their way onto women. Brooks was disturbed because the shirts hadn't been designed with the female configuration in mind and didn't look as well as they should. We then thought of designing a blouse for women and consulted our friends at Vogue – they advised we do a shirt instead and suggested a pink one, promising to help us rescale the measurements."
When asked whether or not feminizing the pink OCBD would threaten their sales to men, Wood answered:
"To be perfectly frank, whenever we contemplate changing anything around here, a perceptible shudder goes through the store. In the end, after months of soul-searching, we resolved to risk a restyled shirt for women, but never to restyle anything else for women. We are definitely not in the women's clothing business. Thus far shall we go and no farther."
Of course, it did go farther. In 1951, Brooks Brothers' rescaled their raglan-sleeved raincoats for women, and the following year, they recut their Bermuda shorts. As usual, women get the last word.