1. Andy and I spent most of last weekend at the mall — getting my glasses prescription renewed (I now have astigmatism in BOTH eyes… awesome), redeeming some coupons, seeing The Bourne Legacy (which was borderline too intense for me… I am a baby when it comes to suspenseful or violent movies), and sneaking in food from the outside because there was nothing in the food court either of us wanted to eat…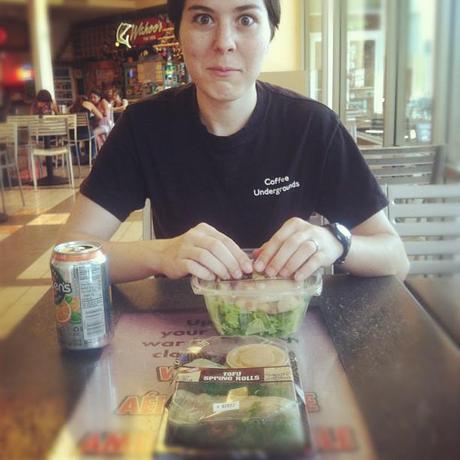 Don't tell!
2. After reading this article on the addictive properties of wheat products, I rather spontaneously decided to go off wheat for an indefinite amount of time. I've been wheat-free for a week as of today, and already I'm noticing that I'm feeling far less snacky between meals, plus I no longer get unbearably bloaty after I eat. This means that all recipes in the immediate future will be not only vegan, but gluten-free as well. I'm both hoping and dreading that I'll continue to feel better over the coming weeks — hoping because, well, I want to feel better, and dreading because I'm quite daunted by the idea of going off wheat permanently. So we'll see what happens.
3. Dinner at Lotus Vegan on Sunday! It was our first time there, which is impressive considering a) we've lived in North Hollywood for 4 months, and b) it's the closest all-vegan restaurant to us. I took pictures of everything we ingested, but rather than overwhelm you, I'll just show you what I got: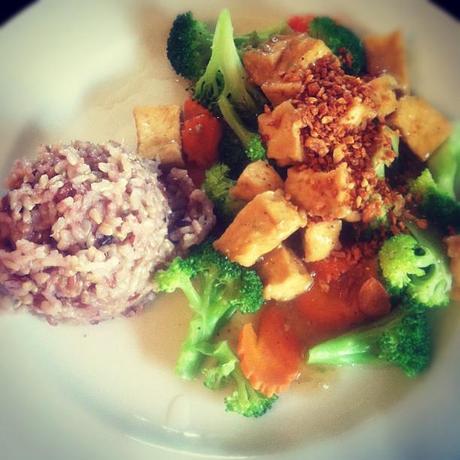 Garlic-pepper sauce over carrots, broccoli, and tofu with brown rice.
Andy got orange (soy) chicken and pad thai, which were both really good. The orange chicken was like eating a savory, orange-glazed donut hole… except better somehow. I also inhaled a piece of their vegan cheesecake for dessert. Thesis statement: if you're ever in the area, you NEED to try this place.
4. My friend Dan lent me a copy of the documentary Miss Representation, which I had been wanting to see for FOREVER. I'm wondering how many times I'm allowed to rewatch it before my behavior can be characterized as obsessive.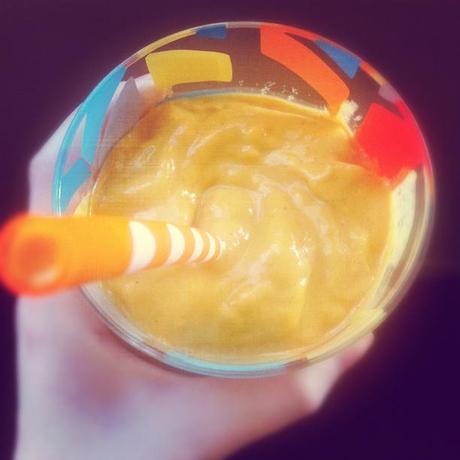 5. I AM OBSESSED WITH THIS PUMPKIN SHAKE. Being a bit of a pumpkin whore, the beginning of fall is one of my favorite times of the year because EVERYONE starts putting out new pumpkin recipes. I hope to be no exception, but give me a bit to get my gluten-free feet under me first!
6. While I'm listing things I'm obsessed with, I've been marathoning The IT Crowd on Netflix this past week. As an avowed lover of Britcoms and a former IT worker myself, I find it more than a little entertaining.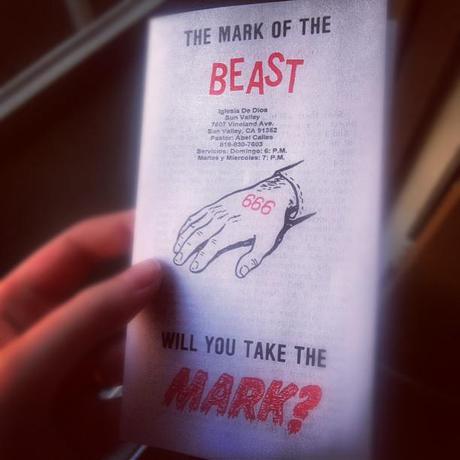 7. Found this in our door on Sunday. The people in our neighborhood sure do love us.