Although I always enjoy reading and writing about women in the past, occasionally I meet one who I really love and thoroughly delight in talking about.  They don't have to be the most accomplished or amazing, just something about them makes me enjoy their company.  Here then is such a woman, my new friend Pinkie...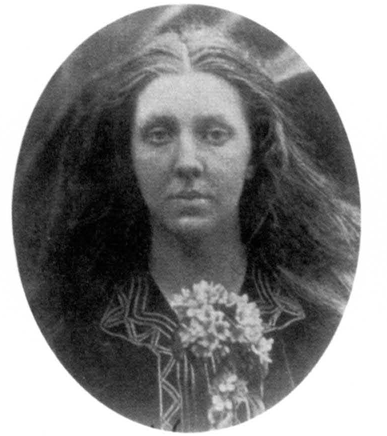 Emily 'Pinkie' Ritchie (1870) Julia Margaret Cameron
Emily Marion Ritchie, or 'Pinkie' as she was known to her friends, was a fascinating woman, not specifically because of her actions, although we'll get to them, but because of who she loved and was loved by. She is also is a bit of a heroine, unfairly dismissed by later generations, who liked to think themselves modern but were hopelessly narrow-minded.  She typifies for me the best of Victorians, wanting to do her best for people she judged to need her help and not afraid to live the life she wanted.  Let's start at the beginning...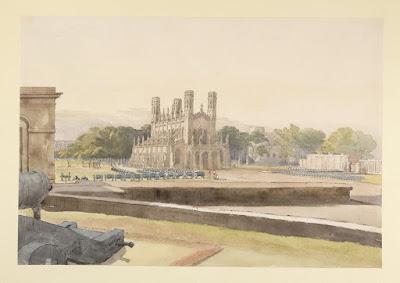 St Peter's Church, Fort William, Calcutta
Pinkie was the third daughter of William Ritchie, who was Legal Member of the Council of the Governor General of India, after the Indian Mutiny. Her childhood was spent mostly in Paris and the girls of the family lived a pleasingly scholastic, artistic life, deep in music, books and paintings.  By 1871, after the death of William in 1862,  the family was back in England, living in Old Windsor (just handy for the Toby Carvery, lovely).  Emily was listed in the census as a 'scholar at home', and her brother Richmond was a 'scholar at Eton', giving some idea of how women's education could be narrowed even in the most educated families.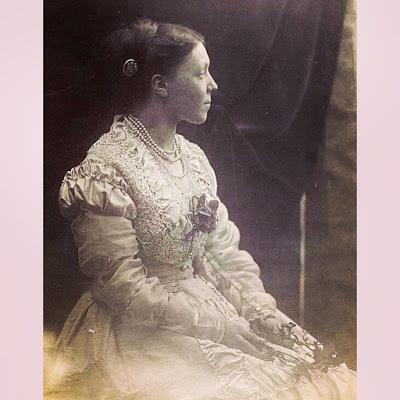 Anne Isabella Thackeray (1870) Julia Margaret Cameron
 Pinkie's cousins on her father's side included the family of eminent Victorian novelist William Makepeace Thackeray, whose daughters Anne Isabella (or Anny) and Harriet Marion (or 'Minny') loved their Anglo-Indian cousins.  Anny's mental health, especially after the death of her father in 1863, benefited from time in a house called The Porch in Freshwater, not far from Dimbola Lodge.  When Pinkie went to stay with Anny, the results were predictable...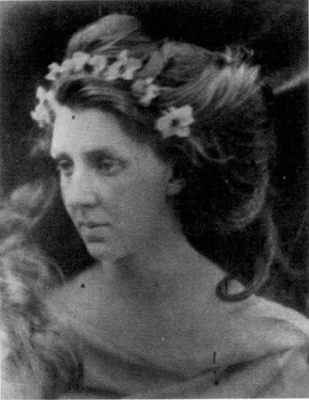 And the stars in her hair were seven (May 1870) Julia Margaret Cameron
Pinkie was a very handsome young woman with an impressive head of hair.  During the Spring that she and Anny were in Freshwater, Mrs Cameron took an assortment of photographs of both women, although Anny's always tended to be portraits, as befitting her status as a novelist.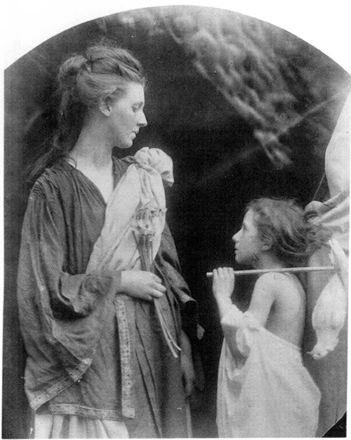 The Votive Offering (May 1870) Julia Margaret Cameron
It was during her stay in Freshwater that Pinkie got to know the Tennyson family.  In reading accounts of how Alfred Lord Tennyson was with the young ladies who frequented his house, I feel there is definitely some aspects of the great poet's life that are under-explored and that rather than being the unimpeachable moral and sombre man of letters, he was actually far more naughty fun.  Pinkie was possibly attracted to Hallam, but enjoyed the company of his father on long walks over the Downs.  She was present at the famous dinner where Tennyson instructed the young ladies present to wear their hair down because he liked to see it flowing and disliked seeing the whole of a woman's ear.  When she returned to Farringford in the early hours of the morning after attending a dance with the Tennyson boys, Pinkie was invited by the poet to stay in his study as he smoked and talked, which, although apparently innocent enough does make one raise an eyebrow. His advice to her was never to be spoiled by the world, an echo perhaps of his wish to keep her hair down, reverting symbolically to childhood.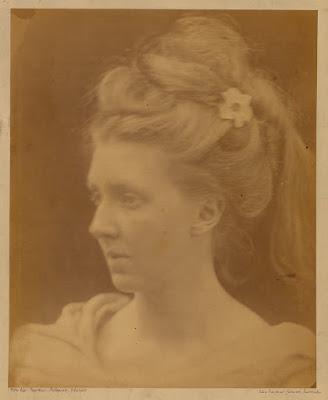 Pinkie Richie (1870) Julia Margaret Cameron
Pinkie was also present at a reading by Tennyson in 1878 of his poem 'The Revenge' where he grabbed her hand and squeezed it so hard she cried out.  He had been carried away with the poem and was sorry to have inadvertently hurt her, explaining 'Must hold on to something, but a table-leg will do just as well.'  That reminds me of the pen-and-ink sketch of Tennyson by Rossetti, all fidgets and curls as he reads.  Pinkie remained a close confident to Tennyson for the rest of his life, with whom he even talked about Arthur Hallam, exlaiming 'How you would have loved him!' to the young woman.  Pinkie's joyous nature and sense of fun attracted the poet, and he declared her the 'flower of the flock'.  Although Hallam valued Pinkie's opinion on matters of travel and literature, his interest in her was not romantic, and it was felt by her family later that he had broken her heart, but her later actions might hint that the desire for the attachment and disappointment felt at the lack was more a desire for her family to see her settled rather than a sense of jilting on her behalf.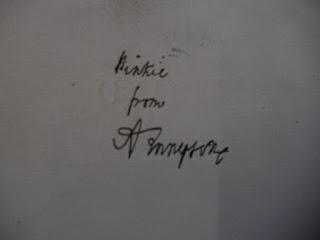 Dedication in the front of a copy of Tennyson's Queen Mary to Pinkie from Hallam
Anny had given Hallam a piece of her mind with regard to his perceived 'leading on' of Pinkie, which I think says more about Anny's affection towards her cousin than Pinkie's strength of feeling towards Hallam.  Anny looked upon Pinkie as a sister, such was the closeness of their bond, and one that was about to become closer...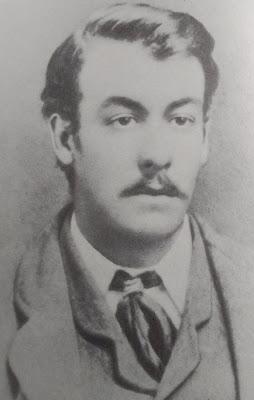 Richmond Ritchie, c.1877
 Pinkie's little brother Richmond was ferociously intelligent, winning a King's Scholarship for Eton at 8 years old.  After most of the Ritchie children had married, and brother Gerald was at Eton with Richmond, Mrs Ritchie moved herself and Pinkie to Wimbledon to be near the boys at school.  The unmarried children delighted in holidaying with their cousin Anny out of term time, and Emily and Anny were great friends, expressed in a prodigious correspondence.  The first hints of what were to come arrived in a letter to Pinkie from Anny who reported from the holiday in Brighton that 'I enjoy having Richmond very much as I needn't tell you, and I insisted on going on rather crazy expeditions and showing him Brighton.'  The swift love affair between the pair resulted in the 23-year-old Richmond and 39-year-old Anny becoming engaged, much to the bewildered horror of their respective families, but Pinkie was her cousin/sister-in-law's staunch supporter and stood beside her as her bridesmaid, giving an entertaining narrative of the whole event back to Emily Tennyson who was too unwell to attend.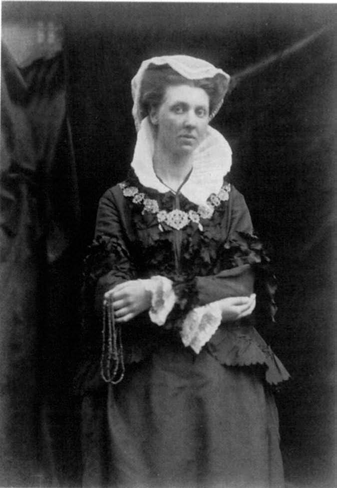 Emily 'Pinkie' Ritchie (1870) Julia Margaret Cameron
In the matter of Pinkie's marital happiness, the
Hampshire Telegraph
of July 1882 seemed to hold good, if not well-spelled, news - 'Miss Emily Ritchie, sister-in-law to Mrs Richmond Ritchie (Ann Thackeray), is going to be married to Mr Charles Lutzens, a young widower living in Ceylon. Mr Lutzen is the son of Captain Lutzen, an artist.'  Pinke had been visiting her brother Gerald in India when she met Charles Lutyens, the brother of the architect and they had become engaged, although again the family (and the couple themselves) were not happy about it.  Lutyens felt that the Ritchie family were beneath him yet craved the money they had, and behaved so arrogantly towards Pinkie that even Lutyens' father believed her to be too good for his son.  The engagement was broken off and when Pinkie was informed of this, she was overwhelmingly relieved.  I think there is a vein in Pinkie's life of trying to do what made others happy, rather than what was best for her, but luckily with her final and lasting relationship, she managed to balance doing good with her own happiness.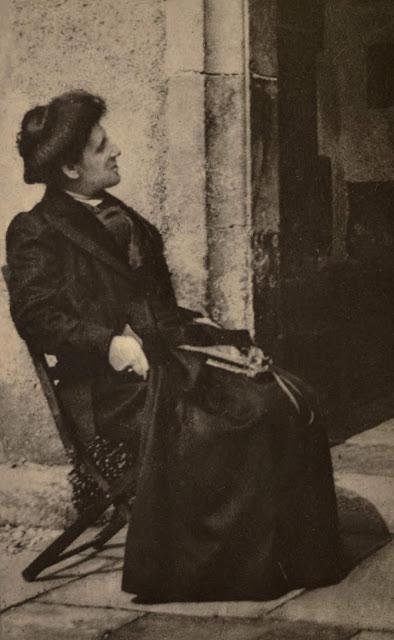 Edith Helen Sichel, c.1900
In 1884, Pinkie Ritchie found herself a somewhat 'spare' woman, tending an invalid mother and dedicating her life to volunteering in the MABYS - the Metropolitan Association for Befriending Young Servants, which sounds frankly odd but it seems to be hinted at in things like Miss Marple when orphaned girls from inner city areas were taken in by 'respectable ladies' and set on a path of sensible servitude rather than predictable prostitution.  That year was special for Pinkie - 'It was when [Edith] was two-and-twenty, a few months after her father's death in 1884, that she and I first came into each other's lives ... It was a wonderful day when Edith, who had long wished for such work, but had not hitherto been free for anything of the kind, came to join me' Pinkie wrote in her friend's collected work she had edited and privately printed in 1918.  Pinkie was 33 and Edith was 22; both were talented, intelligent women, cultured and well-read.  Edith was warm and witty, religious but not too serious.  Pinkie was an accomplished pianist who spoke French and German, as did Edith, who also had studied Latin and Greek.  They also shared a horror of the poor conditions families in the worst districts in London and a desire to do everything in their power to better the lives of the children in need.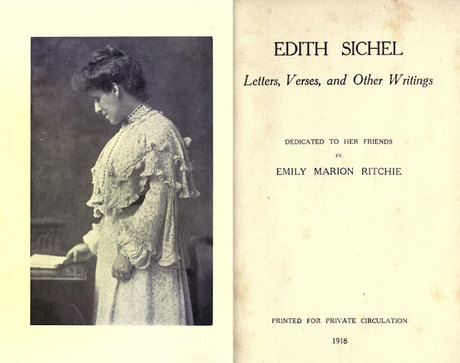 Both women lost their mothers in 1888 and this seemed to free Pinkie from the confines of what was expected of her, allowing her to pursue what she wanted.  She and Edith took a cottage together in Chiddingford.  They had a second cottage for Mary Hill, a widow from the inner city and set up a sort of care home for orphaned girls.  When the couple moved home in 1895, they set up another girls home nearby.  Although Pinkie was happy, her family proved less than supportive of her life choices.  It is hardly suprising that turn of the century society did not embrace the couple; Pinkie's brother Richmond sniped at the pair, and their oldest sister Augusta, or Gussie, was openly hostile, accusing Edith and Pinkie of behaving like 'an engaged couple'.  While most contemporary accounts describe the pair in sanitised terms, it is obvious from the family's discomfort that Pinkie had at last found love with an equal.  Much like May Morris and Miss Lobb, it is a relief when you see someone deserving of happiness find their soul-mate, despite the prejudice of society.  Not only that, the couple helped young girls escape the inner city for a life in the countryside and the chance of work.  When Virginia Woolf criticised Edith Sichel of not understanding the urban life she wished to 'rescue' the girls from, it could be argued that Virginia Woolf did not know any better from her equally privileged standpoint, and yet another example of her discarding her own matrilineal heritage as she did with
Freshwater
and the removal of Anny Ritchie from the literary conversation.
When Pinkie died in 1932 she was described in the newspapers as the latest of the 'last' Victorians, and her stately, tall and handsome face were noted, together with her sense of fun.  Her great friendship with Edith was also mentioned in her obituaries and all together she was remembered for being a bright and charming woman.  Although her family seemed perturbed by her two failed 'love affairs', in her devotion and love of Edith I think the truth is revealed.  Pinkie wrote of Edith 'we seemed destined to belong to each other for life,' and it is a jolly good thing too.
See you tomorrow.