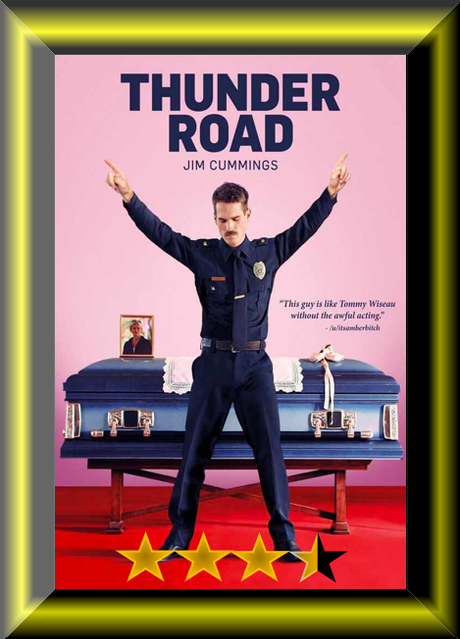 Director: Jim Cummings
Writer: Jim Cummings (Screenplay)
Starring: Jim Cummings, Kendal Farr, Nican Robinson, Jocelyn DeBoer, Chelsea Edmundson, Macon Blair, Ammie Masterson
Plot: A police officer faces a personal meltdown following a divorce and the death of his mother.
Runtime: 1 Hour 32 Minutes
There may be spoilers in the rest of the review
Verdict: Cummings Shines
Story: Thunder Road starts on the day of Officer Jim Arnaud (Cummings) funeral, here he breaks down slightly despite trying to stay strong for his daughter Crystal (Farr), being forced to take time off work, his partner Nate Lewis (Robinson) supports him. As Jim is also going through a divorce from Rosalind (DeBoer) which has only just hit him with the papers, Jim is trying to keep his life in order.
As Jim sees even more of his life fall apart, he is left losing everything, hoping he could fix things before it is too late, showing just how easily somebody's life can fall in a matter moments.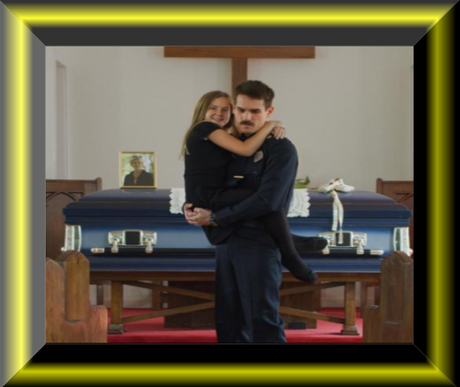 Thoughts on Thunder Road
Characters – Officer Jim Arnaud is a good cop, good father and was a good husband, while his marriage has gone in different direction, it has ended well enough to keep their daughter together, he loses his mother and lets out his sadness on a suspect, he is happy to have split custody of their daughter, only when he loses this, he falls of the rails completely, he shows how easily somebody can have a breakdown without having the support of people in their lives. Crystal is the daughter that is caught in the middle of the divorce, she loves both her parents and is growing up too fast for Jim's liking. Nate Lewis is Jim's partner, who spends time of duty supporting his friend, being one of the few that will step up more once he sees the decline in his mental state. Rosalind is the ex-wife that has been patient with Jim, even though she is the one that puts the papers in for the divorce.
Performances – Jim Cummings is excellent in the leading role here, we understand each emotion that Jim is going through, all while trying his hardest to remain calm, even when he can't. Kendal Farr as the young girl works well through the film, while Nican Robinson brings in the best friend figure with ease.
Story – The story here follows a police officer whose life starts falling apart around him after the death of his mother, divorce and custody battle for his daughter, showing us just how someone can spiral out of control. This story does show the pain somebody can go through when life hits too hard, not with one moment, but a string of them, which will make it feel like everything is against you. The spiral is hard to watch because Jim does come off like a nice honest person, that does always try to do the right thing in life. Where this story does shine, is by showing us how people will be there for you, if you are willing to accept or ask for help.
Comedy – The comedy in the film does come from a couple of moments of social awkward behavior that Jim has, harmless, though.
Settings – The film does keep us in the one town setting, it shows how there is stories about the people in it.

Scene of the Movie – Police station confrontation.
That Moment That Annoyed Me – Custody case.
Final Thoughts –This is an enjoyable comedy that has a shining performance from the lead Jim Cummings and shows just how life can be hard to the nicest people.
Overall: Nice Hard Hitting Comedy.