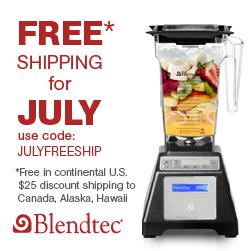 Hi guys. I'll be back in a few.  Been thrown a

bit

of a curveball in our household, and am prettay preoccupied.




Until I return, I forgot to let you all know about Blendtec's July promotion.  There is free shipping for US customers (and a $25 discount toward shipping cost to Canada, Hawaii, and Alaska).  

Link through to browse

, and you can use the code "JULYFREESHIP" at checkout.  

For those of you new to my blog, I use my Blendtec for everything from

green smoothies

 to

nut-based sauces

and

raw dressings

to

pie fillings

and

ice creams

and

more

.  




p.s.

the new "WildSide" model

  (ie

wildside ja

r to fit standard base) is fabulous for large batches of smoothies and other mixes.


And, how about wishing me some change of luck for what has been quite a challenging first half of 2011?  Please, could use it!  Ok, back soon...