The kid loves going to the supermarket with me, because it's an endless buffet. And she has always been all about the buffet. Exotic chips and flavored popcorns are available to sample. And then ask mom if we can buy a bag, which re usually,curiously, on a two-for-one sale. Hmmm ... The man behind the cheese counter at our local Publix knows her by name, and when he sees her coming he always slices up some Manchego or some other cheese he thinks she might like. And she does. It is great to watch her broaden her horizons along with her palate.
Lately, at Whole Foods, she has become enamored of cucumber slices on offer that are being used to tout a ginger miso salad dressing. She likes it so much that the last time we went she insisted I try it and buy it. I did and did. Not only was I impressed by the kid wanting a salad dressing (she's not much for salad, but will eat her own version of
crudités
that we have dubbed "bits and pieces"), but I was immediately brought back, with one bite, to my own salad days in New York City in the '80s.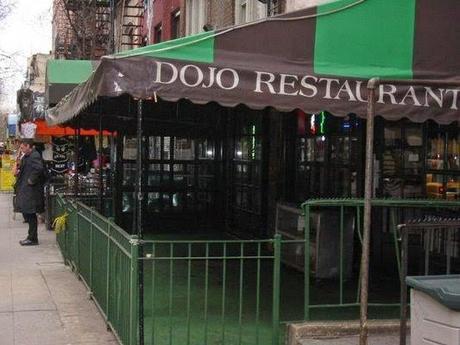 It had outdoor seating for warm days ... (photo from Yelp)
An art student never has much money. What little I had went towards art supplies, and maybe a vodka drink on a night out from time to time. Food was always a secondary concern, but when hunger did strike, one of the places my friends and I frequently found ourselves was at Dojo's on St. Mark's Place. Dojo's was (presumably) healthy food, and even better, it was cheap. Plus, they served alcohol, so some sake or a Rolling Rock would sometimes sneak their way in to our evening menu. My friend Sibylle introduced me to the place, and one of its signature dishes, chicken sukiyaki salad with carrot ginger miso dressing. Mixing the noodles and the greens may have been funky enough, but it was the ginger miso dressing that made it a dish to reorder and reorder. The dressing also appeared on their soy burgers and I'm sure lots of other recipes, but it was the chicken sukiyaki salad that became our go-to fuel.
New York has changed immeasurably since those days, and a quick online search has confirmed what I feared, that Dojo's is
long closed
. But those memories of fun evenings and delicious ginger miso dressing remain.