In honor of Throwback Thursday we decided to share a little history lesson! Here are 6 facts from fashion history we knew nothing about!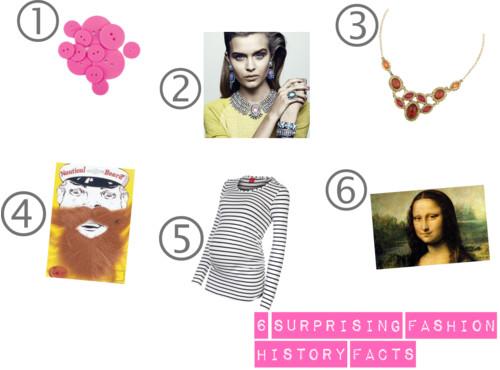 1. Buttons on Sleeves: While today we are accustomed to seeing buttons on sleeves, I bet you don't know why? Napoleon started this trend by ordering his tailors to add buttons to all his soldiers uniforms to keep them from wiping their noses on their sleeves.
 2. Models: Models did not exist before the 19th century. Designers would use small dolls to show off their new designs as a way to save money and fabric.
3. Jewelry: While jewelry is a woman dominated industry today, men were the first to don a bit of bling as a sign of social status.
4. Beards: Many men wear beards now, but if they had worn a beard when Peter the Great was the Tsar of Russia, they would have had to pay special taxes. The tax was introduced as a way to make Russian men shave and look more European.
5. Pregnancy: In the 15th century pregnancy was so popular that girls who were not expecting would shove small pillows under their dresses to create the illusion of baby bumps.
6. Eyebrows: Today the fashion of eyebrows changes from finely shaped to natural, but during the Renaissance fashionistas used to shave their eyebrows off entirely. A good example of this is the first it-girl herself: Mona Lisa.