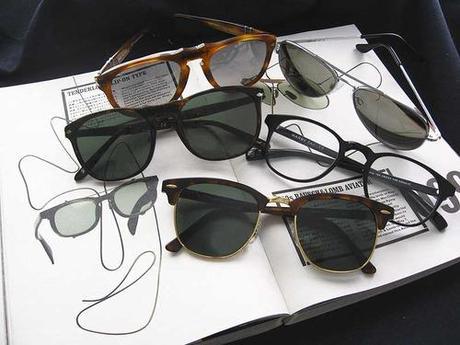 I don't remember being this sensitive to the sun when I was young, but nowadays, in the summertime, I try to remember my sunglasses before I leave the house. They've become a regular accessory, like a watch or belt, as without them, I find it's just too bright outside. I think my sensitivity has something to do with age, but it's also quite possible that I'm trying to justify purchases to myself. 
In any case, above are the five pairs I own:
Randolph Engineering Concordes in bright chrome:

As the official supplier of sunglasses to the US Department of Defense, Randolph Engineering's frames are worn by NASA astronauts and military pilots. I like the tear-shaped lenses on the

Concorde

models, but their

Aviator, Sportsman, and Crew Chief models

are nice too. 

Warby Parker Downing in Revolver Black:

Warby Parker's sunglasses feel a bit less sturdy to me, but on the upside, they're affordably priced, very well design, and unbelievably convenient to try out. They can't fill high-index prescription lenses, unfortunately, so if you need something strong, you'll have to buy one of their empty frames and fill them elsewhere. As you can see above, mine still need to be filled because I'm a lazy bastard.

Persol 649 in Light Havana: Persol got its start by making eyewear for pilots and racecar drivers. Today, the company's 649 and 714 models, for which they're most famous, hark back to those aviator roots. I like that the 649 has less hardware, but the 714 being foldable means you can more easily stow it away in your chest pocket.
Persol 2994S in Havana:

The best selling sunglasses of the 20

th

century were Ray Ban's

Wayfarer

, and for good reason. Not too round and not too square, they look flattering on almost anyone. Persol's 2994S has a similar shape, but look just a touch more Italian in style. I find these are nice when you don't want your sunglasses to make a statement. 

Ray Ban Clubmasters in Havana: I wear a pair of Shuron Revelations with prescription lenses, and have always liked the retro look of browline frames. These Clubmasters have a 1950s sensibility and arguably look just as good with a coat and tie as they do with chinos and a madras shirt. They also feel like just the right frames to have on when you're drinking a gin and tonic.