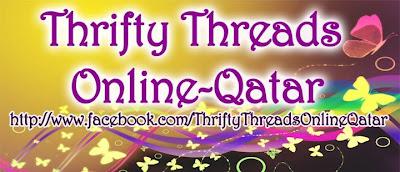 The 1st day of the month of August seems to be a lucky day even if the weather is somewhat rough throughout the country. But don't fret. Don't even frown. Online shopping isn't about to go down. Think
Thrifty Threads
. Online shopping in Qatar has just began.
Thrifty Threads by KP Ricarde has conquered not only the online shoppers in the Philippines but also all over Qatar! Now that's what you call a progressive e-commerce. 
Thrifty Threads never gets outdated as they always have brand new and up to date products on hand. Even if the weather's not being too nice, KP Ricarde's Online Tiangge in Qatar never fails its customers.

What a way to end the month of July for Thrifty Threads. Why? Thrifty Threads joined the Pinoy Online Entrepreneurs in the beautiful country of Qatar.  So why wait for another bazaar to come your way? Visit Thrifty Threads now. How? Just go to their Facebook page at
http://www.facebook.com/ThriftyThreadsQatar
and you'll see what you have been looking for across the online shops.
Click this
LINK
to read more about Thrifty Threads Online Tiangge.
Not living in Qatar?Don't worry! Thrifty Threads is in the Philippines as well.Visit their Facebook Page at
http://www.facebook.com/thrifty.thread
Visit their Multiply Site at
http://thriftythread.multiply.com/