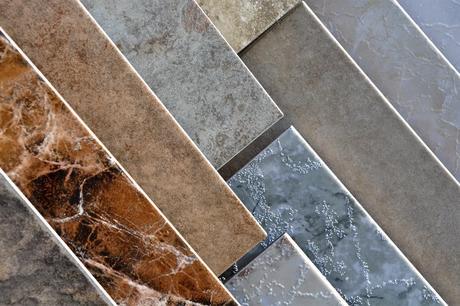 Replacing tiles in your home is one of those irritating but inevitable situations; whether you just want to update the look of your home or some of your tiles have become damaged, you'll almost certainly need to replace them at some point.
Luckily, there are plenty of tips and tricks to ensure that you tile replacement journey can be as efficient and cost effective as possible, so here are three top tips for choosing replacement tiles for the home.
1. Consider maintenance
There are so many different types of tile out there and they each require different levels of maintenance; this is definitely worth bearing in mind when you're choosing your replacement tiles.
Porcelain tiles and ceramic tiles require next to no maintenance - simply a quick wash will keep them in good condition, so these types of tiles are great if you don't have a lot of time on your hands or you're not the biggest fan of cleaning.
Another relatively low maintenance tile is the glass tile. To keep glass tiles in tip top shape, they generally only require a bit of cleaning and buffing, but be careful, using glass tiles on the floor can make it slippery!
Stone tiles, on the other hand, require a little bit more maintenance because their slightly more porous nature allows them to hold more dirt. However, if you have the time for the upkeep of stone tiles, they can be a great way to add that little bit of extra texture to your home.
If you're unsure how to best care for your tiles, download this really useful guide from Kermans.
2. Save the pennies
Good quality tiles don't come cheap, but purchasing high-quality tiles is essential. However, you can save yourself a few pennies by cutting out the middleman.
There are plenty of high street and specialist suppliers of tiles, but if you choose to go straight to the tile manufacturer, you could end up saving yourself quite a lot of money.
Retail stores up their prices in order to make a profit, but opting to buy from the manufacturer means that you won't have to pay high street prices - you'll most likely get a much better deal!
3. Always over buy
Accidents do happen, which means it's not uncommon for tiles to get broken. This can happen during the laying process or can even when the tiles are fixed in place, but it's almost guaranteed to happen at some point.
We spoke to the guys at London Tile Shop who explained: "There's always room for accidents to happen with tiles. To combat this, as a general rule, you should always buy between 5% and 10% more tiles than you actually need to ensure that you will be able to replace them easily."
Even though it's a little bit more expensive, buying extra tiles means that you're covered if any of them get chipped, shattered, or damaged.
If you're unsure about how to measure for your tiles, this tiling calculator will make your job a lot easier.