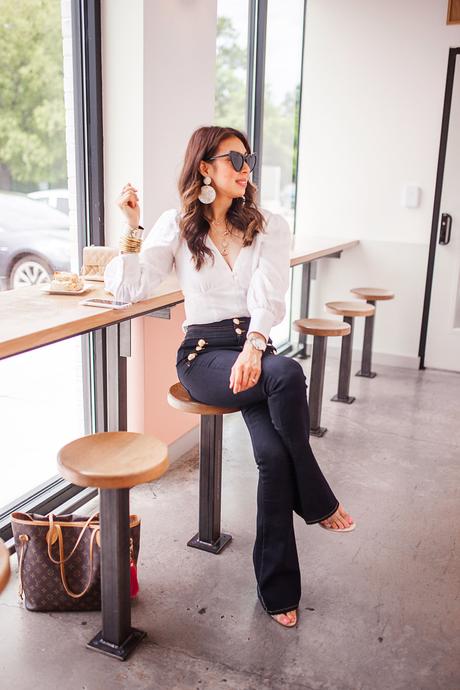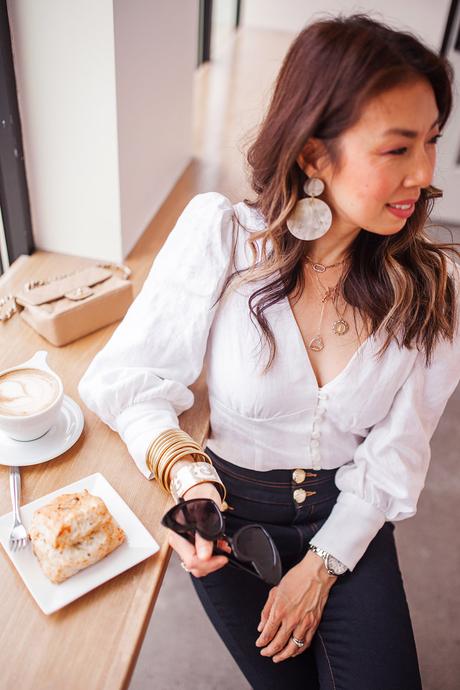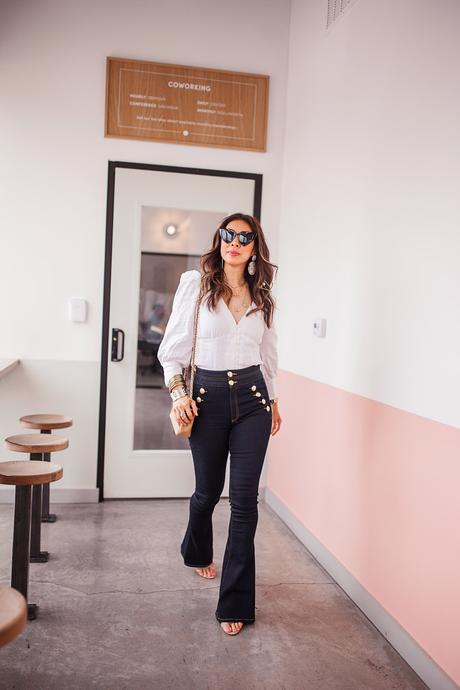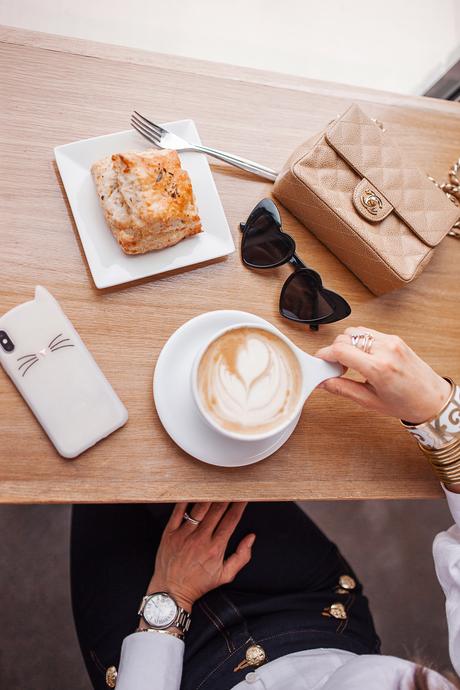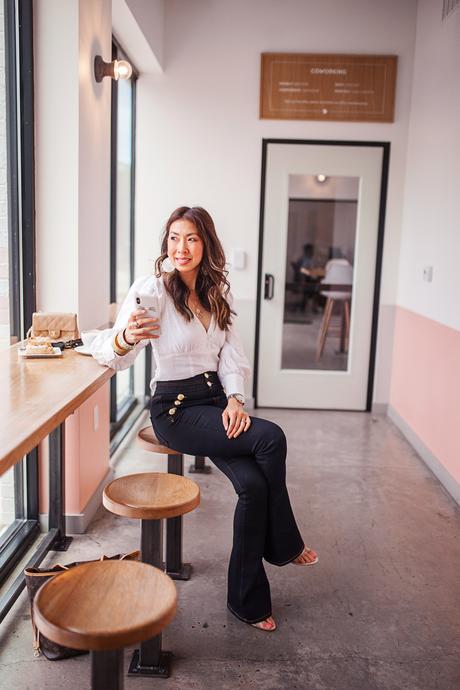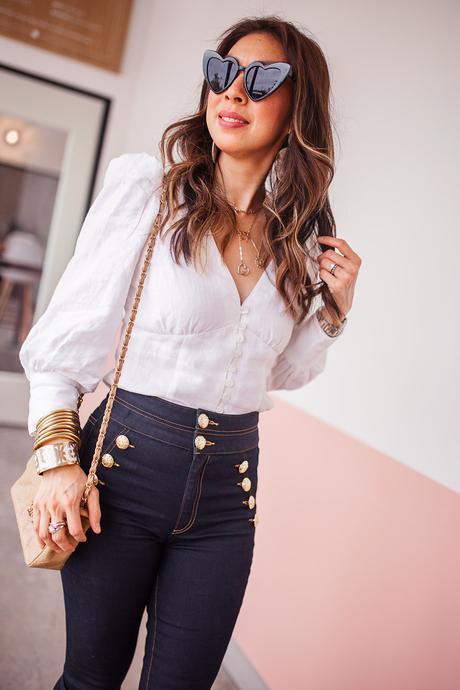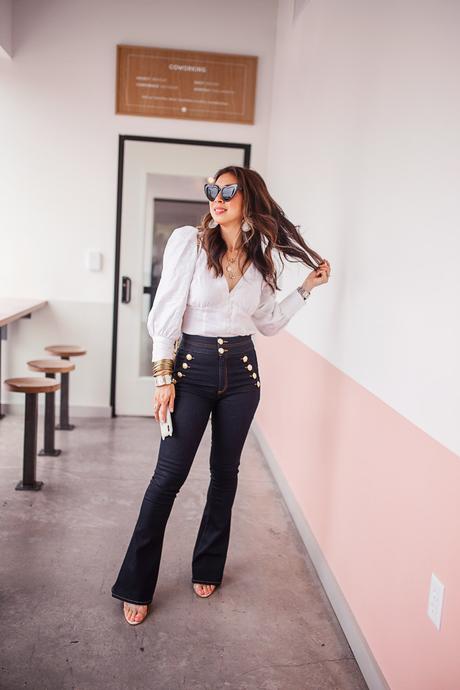 Basic /ˈbāsik/ forming an essential foundation or starting point; fundamental. I used to think basic was bad. As I've matured, I realize basic is GREAT and really most of what I wear. You see me all glammed up on social media and the blog, but my day to day outfits are very basic. Today, I'm sharing three easy steps for an elevated basic outfit!

This topic was the most requested on social media, so I've been trying to think of the best way to share with Y'all. I had previously photographed this outfit as a basic white top and jeans outfit, but I'm going to show some other examples of my daily OOTD.
THE STYLE Rx :The secret of style are accessories. Adding accessories will elevate the most basic outfit.
This is a dressed up example of my everyday uniform, a white top and jeans. It all starts with the basic foundation, and the ouftit personality changes depending on the accessories you wear with it. I've glammed it up with large earrings, layers of necklaces (a "neckmess"), and heels. Smaller/stud earrings, espadrille sandals, and a crossbody bag would keep it more casual. A string/layers of pearls would make it dressier in a classy way. See how an outfit can change depending on the accessories that you pair with it?
START WITH A GOOD FOUNDATION
A great outfit starts with a good foundation. This is literally one of my favorite tops and I've worn it countless times. It's from the sustainable brand, Reformation, and made of linen. Because of the puff sleeves, it's on trend but still a pretty classic shape. This is a variation of my usual white tee (which I have WAY TOO many of in my closet). Find your perfect basic whether it's a white tee or black blouse.
I used to dismiss designer jeans. Why pay that much money when you can find a great pair at Target? Then I discovered some brands via the Nordstrom Sale and I now am hooked. I still have my Target jeans, but I do LOVE Veronica Beard jeans. These high-rise flare legs jeans are my newest fave. And yes, I got them on sale! My friend Erin of Busbee Style re commended them, and she is SO RIGHT! She called them magic jeans because they make you look tall and slim. I get so many compliments every time I wear them!
ELEVATE WITH ACCESSORIES
This is my FAVORITE part of getting dressed! At a young age, I learned to change my outfit with accessories. We were on a budget, and I wore the same clothing but changed the look with accessories. It's a style trick used by the French too! Aren't they always so stylish? You can wear a white top and jeans with pearls one day and a scarf the next day for a completely different look. Voila!
I found these very fun statement earrings at from Lola + Lina, a local accessories boutique, for $32. They totally make the outfit and are a worthy accessory investment! BTW, Lola + Lina also carries cute clothing and pajamas! I'm not going to lie - that place is super dangerous to my wallet!
Layered necklaces and bracelets have been trending also. I have collected my necklaces over a period, but many places sell multi-layered necklaces to achieve the same look. All-in-ones are so easy! I also wear those Budha Girl all weather bangles ALL THE TIME. I remember balking at the price because they are plastic ($99 for a set) but the cost-per-wear has already paid for themselves. I wear them EVERY day!
Shoes are considered an accessory in my book, and I LOVE the clear sandal trend. Remember these from the 90s? I'm loving it again and decided to try a pair this season! They literally go with everything from dresses to jeans and create a super long look!
LOVE YOURSELF
The last part of the dressing equation is simple but hardest for most to do! LOVE YOURSELF!! We are our own worst critics especially when it comes to looking at ourselves in the mirror. It shows on your face and body when you're not happy with yourself. If you are wearing a one million dollar dress and you don't have confidence in it/love it, then the dress is wearing you and not the reverse.
I use fashion as a way to express myself AND feel good about myself for the day. I dress for how I WANT to feel meaning... If I feel kind of blah in the morning, I'll put on something super fun to get myself in the right mindset! Super fun may be big statement earrings for me, but it may be a pearl necklace or diamond studs to you. You do YOU! It may sound silly, but that trick works for me every time!
Let check out some other basic outfits. They are basically different versions of the same - a good foundation and some fun accessories!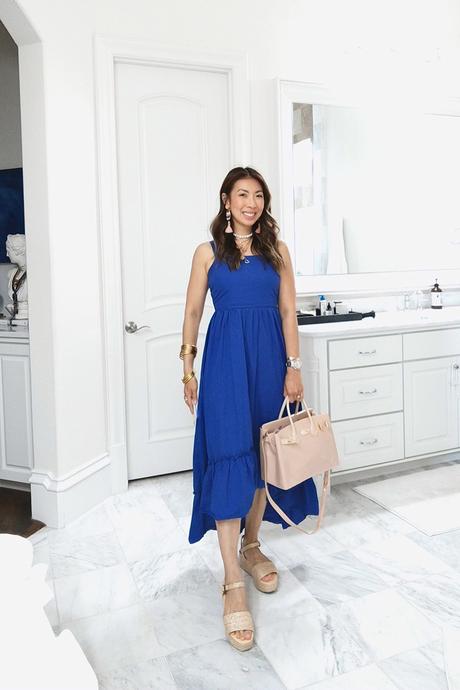 Here I'm wearing a past season Target dress with bird earrings (so cute right), a Beachkin bag (jelly birkin bag perfect for summer), and neutral sandals (again from Target).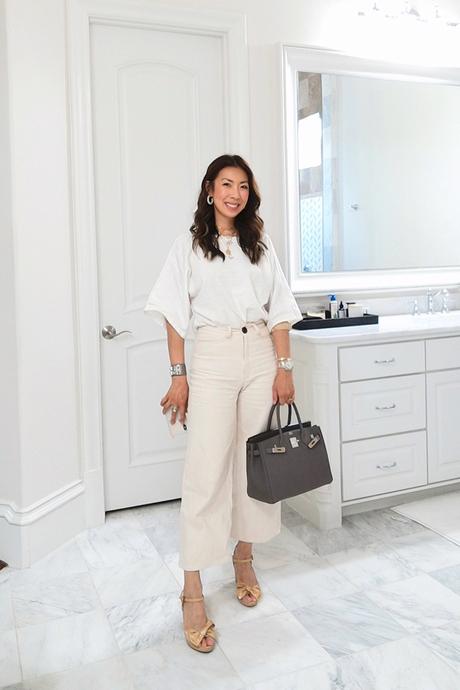 This is another variation of white and jeans but in the same color family. (That's my style trick when I'm in a hurry.) Both pieces are from Tribe Alive, one of my favorite local ethical clothing companies. I paired it with simple hoops (from the Box of Style), layered necklaces, and a neutral sandal.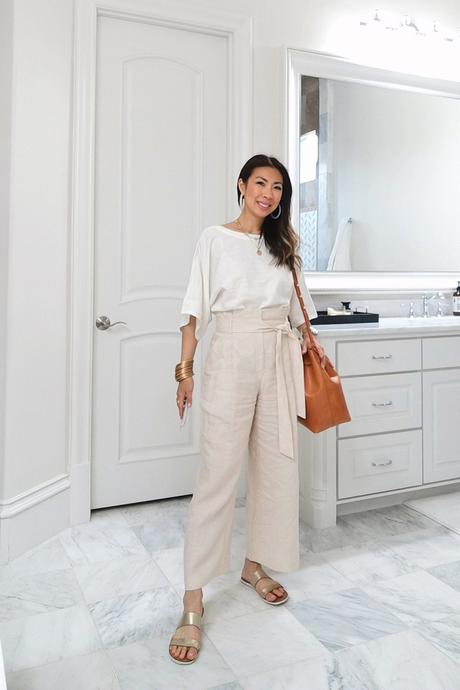 This is that Tribe Alive top again paired with linen cropped pants. My accessories are white hoops, layered necklaces, Budha girl bracelets, gold sandals, and a neutral bag.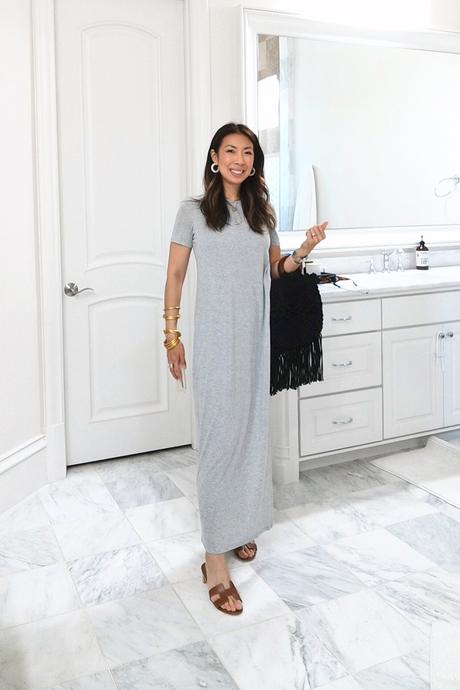 Here I am in another past season Target dress with the same hoops and now the bag from the Summer Box of Style. You see the same layered necklaces and Budha bangles. I wore it with brown sandals.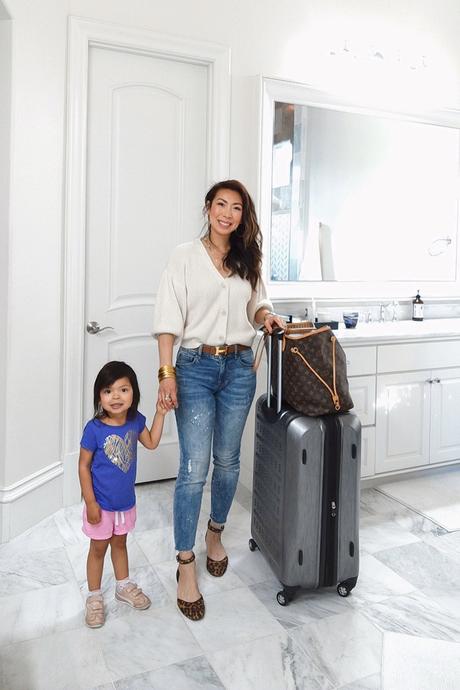 This was a travel outfit wearing a CABI sweater (as a top) and jeans. My accessories were simple hoops, Budha girl bracelets (awesome for travel), Hermes belt, and an animal print shoe!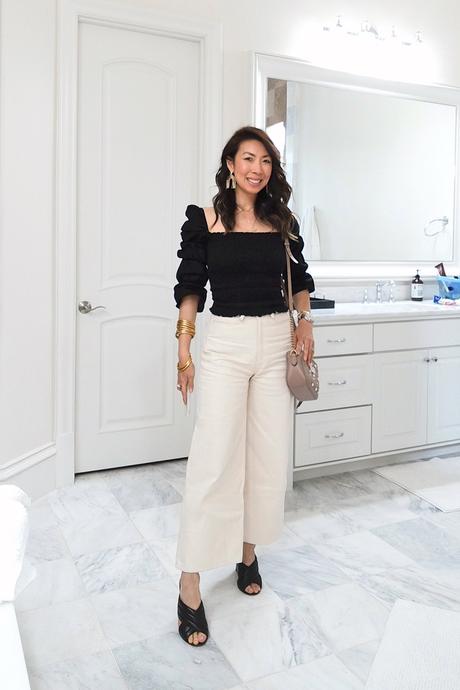 Here is another variation of the tee and jeans but colors reversed with a black Reformation top and cream Tribe Alive jeans. I accessorized with statement earrings, Budha girl bracelets, and my pearl bag ( review here) and black sandals.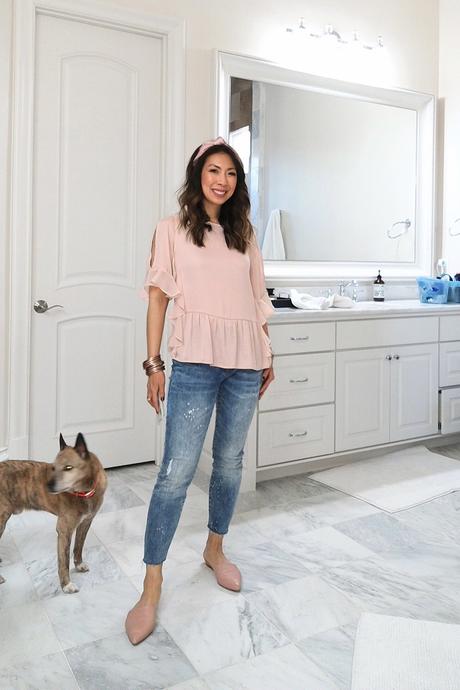 This is another dressier version of my uniform with a past season Target top and CABI jeans. The accessories that elevate it are the Target headband and Everlane slides.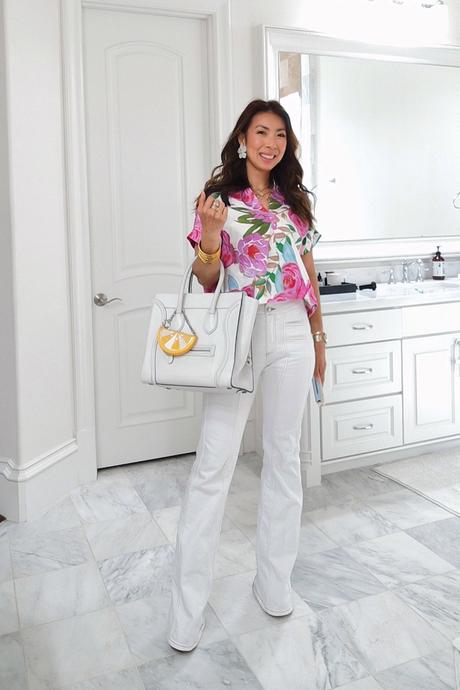 This last outfit is another dressier version of my uniform with a Brooke Wright design floral kimono top and Veronica Beard white jeans. The flower earrings from Target elevate the outfit and of course you see the Budha girl bracelets and layered necklaces. LOL!
I hope these outfits give you some inspiration for some easy but fun elevated basic looks! Again, start with the foundation and add some accessories! Don't forget to smile at your beautiful self!!
What is your BASIC everyday uniform?
Happy Wednesday GlamFam! Happy Hump Day and hope your week is off to a great start!! Last week, I had a self-care week by attending a Tata Harper Masterclass at Neiman Marcus Clearfork on Tuesday and then had a massage and back polish at Milk and Honey on Wednesday! It was AMAZING! Just an FYI, you can get a free back polish upgrade if you book a massage with a promo code HERE. Would y'all like a blog post about the benefits of massage or what happens at a Master Class? Let me know in the comments!
This week, I'm trying to get more house stuff done as efficiently as possible since it's a holiday week! I've got to Marie Kondo all of my beauty products and go through all the kids' clothes!
♥︎ ♥︎ STAY GLAM, DO GOOD ♥︎ ♥︎
Thank you so much for stopping by and supporting SOS!
JOIN THE #SAMFAM // SIGN UP FOR THE NEWSLETTER BY CLICKING HERE.
CHECK OUT MY INSTAGRAM SHOP HERE TO SHOP ALL OF MY INSTAGRAM LOOKS!