HootSuite Pro – The 3 Reasons I Love It
I'd like to thank Lisa for thinking about me for this post. I've been going on about HootSuite Pro for some time now and you'll soon find out why. Enjoy the read!

Throughout my first year of blogging I was introduced to tons of online tools I "just had to have." But out of all the tools I've seen and been using the one that has helped me keep it together has been HootSuite Pro. Allow me to explain.
Being a work-from-home mom is a split shift between running a home and running a business. It's a 24-hour 7-day a week job so there has to be a balance. And while I'm reading the latest on a new tool I always ask myself, can I use this while I'm on the go?
I think Lisa summed it up best in her post called The Race To Post, Comment and Share To Success in which see talks about making time to accomplish all of our "things to do" as a blogger.
We all know we have to be consistent posting new and informative content. But in order to maintain traffic and make connections we have to take time to read other blogs, comment, and share.
And how to do I that when I'm sitting in the parking lot waiting for my kids to get out of school or practice?
Enter HootSuite  
I had been seeing HootSuite all over the place it was THE platform to access your social media accounts in one place. You would think that should have been good enough for me to sign up but I was okay with having multiple windows open and accessing each social media account separately. That is until it started getting busy.
I Love Me Some HootSuite!
I signed up for the free version of HootSuite. Imagine my surprise when I learn there's much more to it than just accessing social media accounts. The free version includes adding up to 5 social media accounts, access to an analytics report, message scheduling, and up to 2 RSS feeds.
I finally found a tool that can help me save time and for a work-from-home mom on the go that is just about the best gift I can get. I didn't hesitate to go Pro and here are the three reasons why I love it.
You can add as many social media accounts as you'd like.  This allows me to see my Twitter, Facebook, LinkedIn, and G+ accounts without opening multiple windows. I can reply quicker to friends and colleagues.
Unlimited RSS Feeds. This feature is awesome! Now I won't miss any new posts from my favorite bloggers and I can share the posts at the same time.
Message Scheduling is an awesome feature for those who are always on the go. Let's say you have an appointment in the morning but you want to share your post. You can schedule a day and time for your messages to post to your social media accounts. It keeps traffic going to your blog even while you're away.
But Wait, There's More
There are some other cool features as well. I've recently learned, wait for it…that there's an app for HootSuite for those of us who use a mobile phone to conduct business and they launched a new feature called HootSuite Conversations that lets us talk to team members or end users in real time.
Awesome tool, huh?
To HootSuite or HootSuite Pro
If you're still using the free version and haven't decided on upgrading, like my friend Adrienne says in one of her posts, what the heck are you waiting for? If you're looking for something to help you save time, this is it.
There's even a free 30-day trial. I know you'll love it as much as I do. By the way, I am an affiliate, so if you do decide to purchase using one of these links, I will get commission for it. But trust me folks, I wouldn't promote something I wasn't using myself or I thought was a questionable product. HootSuite Pro is the real deal.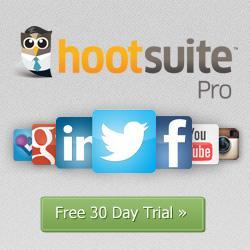 Over To You
Looks like I've gone on and one about HootSuite Pro haven't I. So what's holding you back from going with Hootsuite Pro? Maybe we can talk about any questions you might have. Not that I'm an expert, but I do love solving problems. Fill in the comments section below and let's talk.