This post contains affiliate links which means I receive a commission if you make a purchase using the links in this post.
Happy National Tweed Day! To celebrate, I'm sharing my LOVE for the tweed jacket and an ode to the late Karl Lagerfeld! Did you even know that this was a National Holiday?! LOL!
Just a random fact about the material: The original name of the cloth was TWEEL. In 1831, a London merchant misunderstood the handwriting in a letter received. He misread the word as Tweed and thought it was named after the River Tweed in Scotland. And there you have it! TWEED!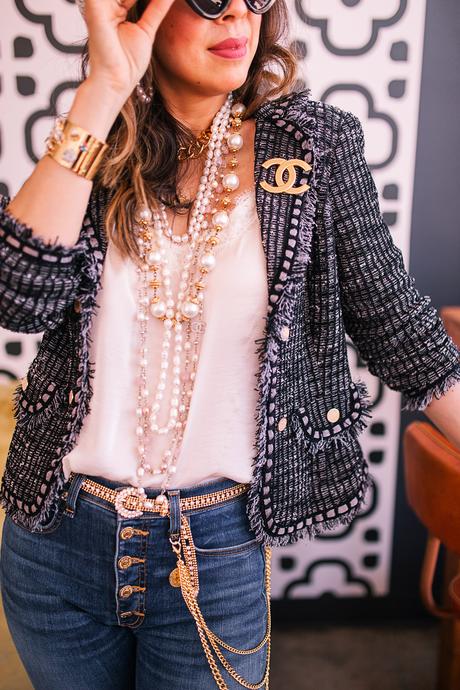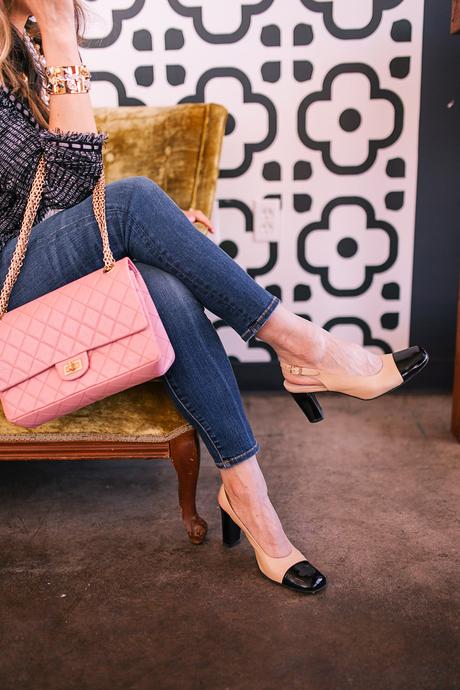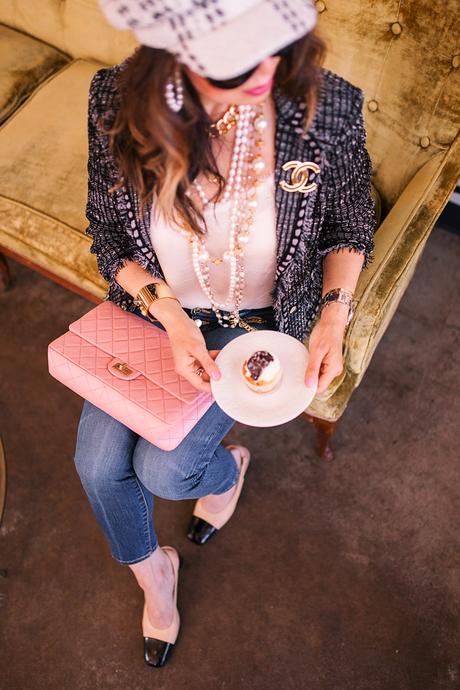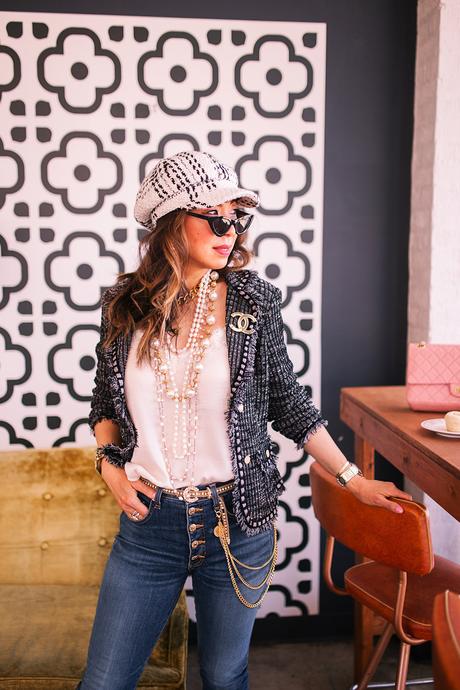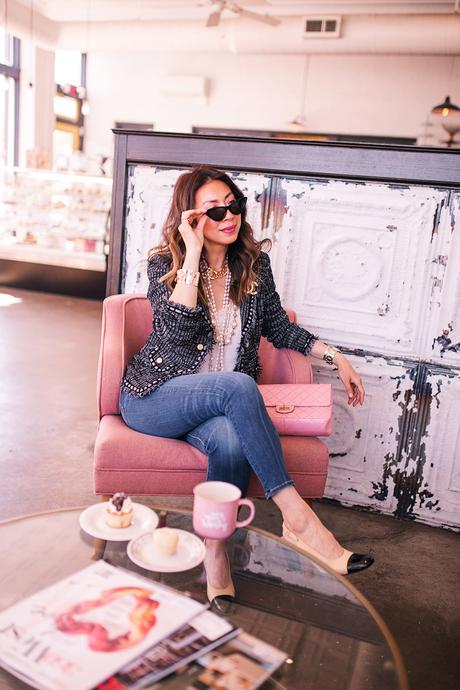 I believe everyone should have a tweed jacket in their wardrobe for three simple reasons!
They are COOL!
I developed my LOVE for tweed after seeing this textured jacket styled so irreverently on cool French girls. I mean the thing is... they make everything look so cool. Don't even get me started on the magazine covers of the 90s with all of the Supermodels and their Chanel pieces stacked on. I'm OBSESSED to say the least!
They are versatile!
The tweed jacket is a versatile piece because it can be dressed up or down. In these pictures, I'm wearing A LOT (aka #MoreisMore) for an Ode to the late Karl Lagerfeld. It's very fashion-y with a tweed newsboy cap, j eans with attached hardware, and a rhinestone belt.
However, I've worn this jacket to work too with a simple top and black slacks! And we did a Chic at Every Age post where I'm wearing a tweed jacket with a simple black dress! See the picture below.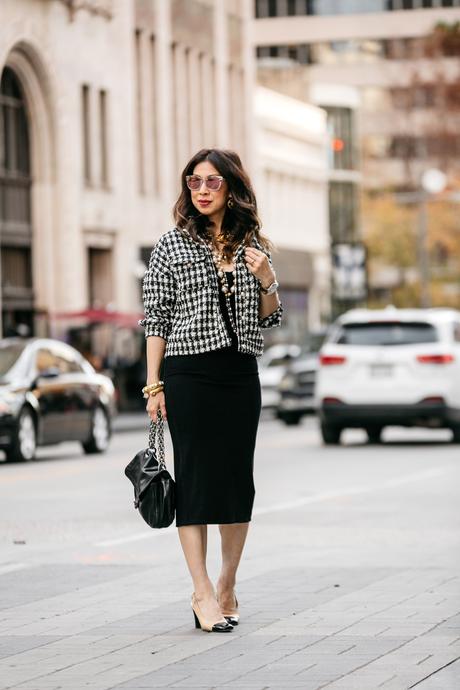 original post here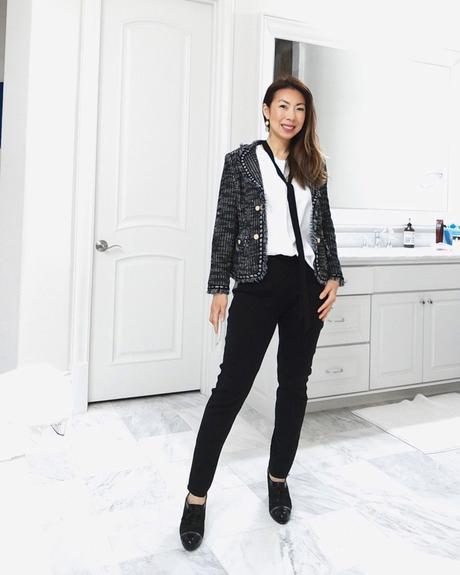 They are timeless!
No judging because some of these photos are pretty old but I wanted to showcase how a tweed jacket can be classic and look timeless.
In both looks, I'm wearing jeans but one is more classic (in the white) and the other is more edgy (with distressed boyfriend jeans). Both showcase how chic a tweed jacket can be! The texture gives any outfit an elevated look even with denim.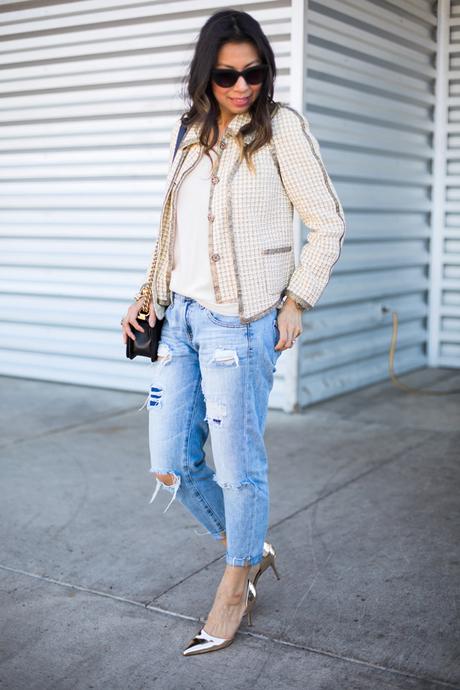 original post here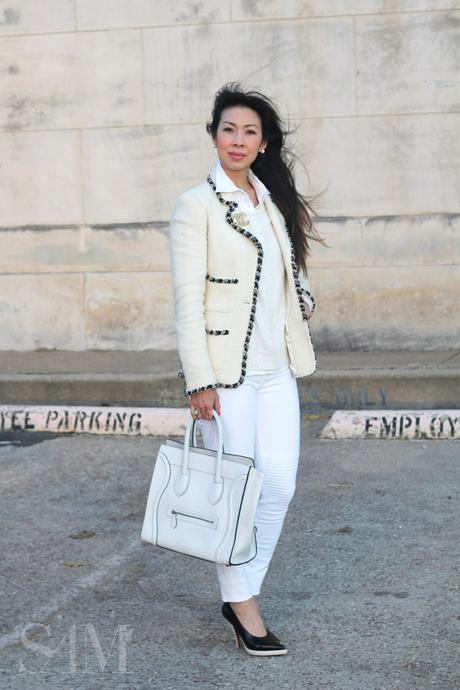 original post here
This whole post was inspired by the late Karl Lagerfeld. His style influence is LEGENDARY and I specifically loved what he did with Chanel. It was always a dream to attend a Chanel fashion show in Paris under his direction. Guess I have to come up with another bucket list item!
I've picked out some fabulous tweed jackets that are different price ranges (high & low)!

Do you own a tweed jacket?! And how do YOU wear it?
Happy Wednesday Friends! Today was such a fun day because I did a shoot with Angie for an upcoming campaign! It's always so fun to be around her because we inspire each other creatively. Hope you had a wonderful day as well! Have so much other stuff going on with the Littles this week! And Mr. S will be busy again for work this weekend! What are you up to on this beautiful day?
♥︎ ♥︎ STAY GLAM, DO GOOD ♥︎ ♥︎
Thank you so much for stopping by and supporting SOS! I truly appreciate it!
// FOLLOW ALONG //