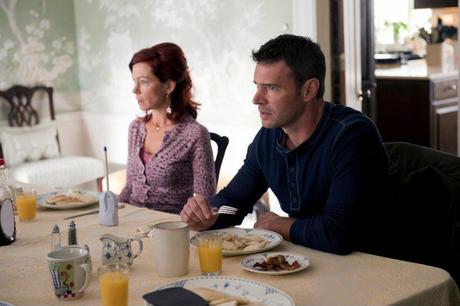 E! Online has posted three new True Blood season 5 video sneak peaks! The first is an extension of the very first waiting sucks clip featuring Sookie (Anna Paquin) and Alcide (Joe Manganiello). Alcide makes Sookie an offer that she refuses:
The next video features Bill (Stephen Moyer) and Eric (Alexander Skarsgård) who is busy cleaning up the mess after Nan Flanagan (Jessica Tuck) meets the true death:
In the last sneak peak, we see Patrick (Scott Foley) having a meal with Terry (Todd Lowe), Arlene (Carrie Preston) and their family. But something is clearly going on:
So what do you think of the sneak peaks? Tell me in the comments below!
Source: E! Online.com- "True Blood Sneak Peek: Scott Foley Is Full of Secrets! Plus, Who's Getting Closer to Sookie?"
Image Credit: HBO, Inc.