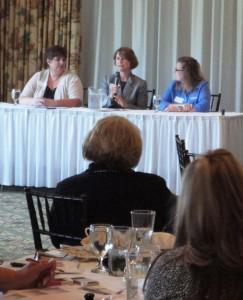 Earlier today I was part of a panel discussion about social media where I was asked to focus on blogging for building business.
There was a large turnout of women business owners, executives and business professionals, all asking questions about the challenges of marketing using social media.
During and after the presentation a few more resources were suggested for business professionals who want to brand and market their company with a blog. I thought this might be a good place to share them.
Copyblogger – content marketing solutions and great writing information and tips
Denise Wakeman's Business Blogging – How to Build a Better Blog
Deborah Chaddock Brown  mentioned using a measurement to to improve your headlines and even though I wrote a post about it, I had forgotten this valuable tool.  She also talked about setting your blogging strategy first by reviewing the interactive CMO landscape.  I was familiar with their chart from 2010, but love this new interactive chart where you can sort based on your marketing goal.
Thank you to the Knowledge Network of Women (KNOW) in the Akron Regional Chamber for hosting the event.