I've been reading as much as ever but writing very little about it here – a most unusual turn of events! What it means, though, is that I can cherry pick the best of my reading to tell you about, three novels by these fantastic writers: Maggie O'Farrell, Kate Atkinson and Siri Hustvedt.
Instructions for a Heatwave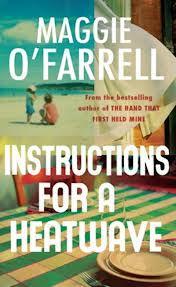 We're in London in the heatwave of 1976, when Robert Riordan tells his wife, Gretta, that he's going round the corner for a newspaper and doesn't come back. Robert is recently retired, but there's been no indication he's unhappy. In the first flush of the crisis, Gretta – one of the candidates, surely, for the great ongoing list of hypnotically awful fictional mothers – summons her three grown children home for support. The Riordans are an Irish family, a rambunctious lot who grew up with a lot of yelling and flouncing out at mealtimes, which has led them in consequence to hold their real adult problems very close to their chests. Michael Francis is a history teacher with a rocky marriage, Monica the over-loved daughter who can't get a purchase on her life and is sleepwalking through a second marriage and awkward stepchildren. And Aoife is the black sheep, a severe dyslexic (though no one knew enough to name it, back in the 70s) who is working in New York as a photographer's assistant and living in fear that the blue file will be discovered where she's hidden all the paperwork. Family tensions flourish in the heat and the confusion, but it's a crucible where some old, treacherous issues can finally meltdown and assume new shape. This is such a warm, kind, generous novel, unflinching in its analysis of families and their foibles, but endlessly forgiving and full of love. I didn't want it to end (happily, of course, all you doom-merchants be warned).
One Good Turn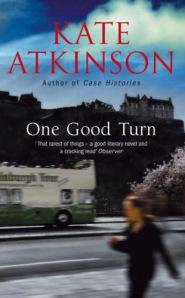 I know Jackson Brodie is high on most people's list of ideal male heroes, but I've been slow in getting around to reading Atkinson's novels. Better late than never, though, as I loved this. The novel opens at the Edinburgh Festival where crowds queuing for lunchtime shows are made witness to a shocking road rage incident. Present at this scene are most of the characters whose lives will intertwine over the course of the next three days in surprising, sometimes alarming, ways. There's Martin, the wimpish novelist, Gloria, late middle-aged wife of a very dodgy property developer, the two mysterious men involved in the road rage and Jackson himself, in Edinburgh accompanying his girlfriend, Julia, and her dreadful avant-garde production. Atkinson draws some more eccentric types into her convoluted web – a firm of Russian cleaners-come-call girls, a woman police detective with a troublesome teenage son and Graham, the property developer, who is hooked up to life support for most of the novel but has been the offstage cause of many of its problems.  Quite unlike O'Farrell, Atkinson is not at all kind to her characters. In fact, she makes dreadful things happen to them, and proceeds to be very, very funny about it. This is a novel of chance and coincidence as lives collide and no one is quite what they seem, but it's all so well done and enjoyable – apart maybe from the ending which gets a bit mad. But that didn't matter to me when the journey there had been so entertaining.
The Sorrows of an American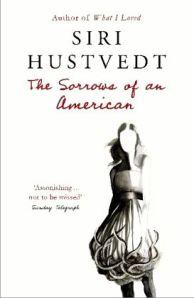 We take a stylistic left turn out of frantic Edinburgh into an elegant street of sophisticated if melancholy boutiques for Siri Hustvedt, who can write some of the most gloriously intelligent yet heartfelt sentences I've ever read. I have a taste for shrink lit in any case, and this is a fine example of it. Erik Davidsen is a New York psychoanalyst and a man grieving for his recently deceased father, Lars. Going through his papers, he and his sister, Inga, discover an enigmatic note referring to a secret their father kept for a woman named Lisa. When their mother turns out to know nothing about it, brother and sister decide to unravel the mystery, if they can. Both have other ongoing problems in their lives. Erik falls for the mother and daughter who move into the flat below his. Miranda is a book cover designer who makes it clear she has no interest in him, but is grateful for his support when her ex-partner behaves in stalker-ish mode. Her daughter, Eglantine, is altogether more drawn to the man she calls the 'worry doctor', exerting her charm in exchange for some security of her own. Meanwhile, Inga, who was married to a late, great novelist, Max Blaustein, is contacted by the actress who starred in the one film he made and who claims to have had a child by him. She also owns letters that could spoil Max's posthumous reputation, and Inga is aware that a vindictive journalist is hunting for damaging material. What makes this book (what makes any book, really) are the voice and the vision. Hustvedt effortlessly evokes the complex life of the mind, and the multiple sorrows and fears that are the inevitable residue of living every day. Erik's interactions with his patients are fascinating and disturbing in equal measure, but it's clear that everyone in this novel, 'normal' or otherwise, suffers the way all humanity must from unexpected disappointments and not knowing what they want, or what will make them happy. If this sounds sad, it isn't; Hustvedt makes something very beautiful out of the mystery of life, as is only right and proper.