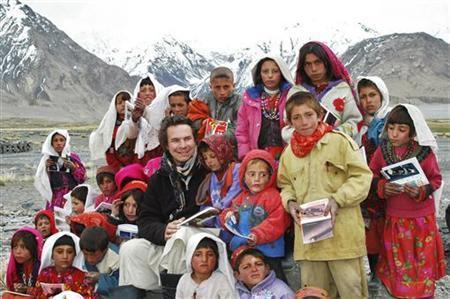 Greg Mortenson poses with Sitara ''Star'' schoolchildren in Wakhan, northeastern Afghanistan in this undated handout photograph released to Reuters March 11, 2009. (Photo: Reuters/Central Asia Institute)
This week I received an email with the subject "Microfinance for Mother's Day." Mother's Day is quickly approaching and with just a simple donation I can give the gifts of "empowerment, dignity and hope" to another mother, somewhere in Kenya. Narratives like this are emotional and powerful, but, alas, they are not always true.
Feel-good narratives can fuel well-intended initiatives, but revelations last week by 60 Minutes questioning the veracity of parts of Greg Mortenson's novel "Three Cups of Tea," as well as the work of his charity—the Central Asian Institute—in building schools for girls in Afghanistan, raise serious questions about how such narratives can result in oversimplified development interventions.
The troubling allegations leveled against Mortenson involve misappropriation of charity contributions for self promotion; exaggerated or outright fabricated tales of capture and triumph; and the dismal underperformance, underutilization or non-existence of those schools Mortenson's charity claimed to be building in the rugged border region.
These allegations have generated such a buzz because, for the past five years, Mortenson has been an international celebrity—traveling the world promoting his narrative of schools for peace and understanding. "Three Cups of Tea" has sold more than four million copies and become required reading for U.S. military serving in Afghanistan. Americans, including President Obama, have contributed millions to Mortenson's charity to build schools.
What is most problematic about Three Cups of Tea isn't what it stood for—the undeniable importance of gaining the respect of elders and building understanding through educating the next generation—but the power of the narrative it crafted and sold: that building schools was somehow an antidote to the intractable problems of insurgency and radical extremism metastasizing throughout the Afghan/Pakistan borderlands.
As Greg Jaffe wrote in the Washington Post, "Mortenson's narratives of wise, patient and kind Afghan and Pakistani elders made it seem as though progress in Afghanistan was achievable."
"The U.S. military was just dying for his story to be true," Celeste Ward Gventer told Jaffe, a senior civilian advisor to the U.S. military.
Another central tenet of the Three Cups of Tea narrative is what Swarthmore professor Timothy Burke calls "messianic" development, referring to the promise of accomplishing unrealistically high goals under very difficult circumstances. As Burke explains, "I don't think cynicism is the issue. The thing we all really need is a sharper understanding of the development industry and a wiser appreciation of how our own desires for sweeping messianic transformations are as much of a target market as any other consumer demand."
Let me be clear. Greg Mortenson's quest to provide Afghan children secondary schooling is admirable, as is his determination to make a difference in such an uncompromising environment. The problem lies in convincing Americans with big hearts that making a difference is something that can be done easily and by writing a check. The number of schools built by Mortenson's charity that remain vacant, understaffed, underfunded or used for crop storage attest to how difficult and complex development really is.
To be fair, Mortenson's is not the first memoir to be challenged as part fiction, nor is building hundreds of schools for children is the first half-promise to entice caring do-gooders. Websites like Kiva.org came under fire in 2009 for giving microloan donations to microfinance institutions to invest in advertized projects, rather than sending donated funds directly to the specific microenterprise projects donors were led to believe they were supporting. Microfinance is another idea that has "spread contagiously, propelled in part because so many of its proponents want its promise of poverty reduction to be true." Most of the recent research, however, suggests otherwise.
As many have pointed out since the 60 Minutes story broke, questioning the practices of one philanthropic charity should not deter all Americans away from giving to the hundreds of needy causes out there, many of which have been taken up by non-profits with long standing integrity. For this Mother's Day, I know my mother expects me to do due-diligence on my gift to her, even if it means just choosing a good restaurant.