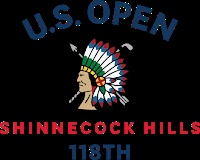 For those fans who stayed glued to their television sets during the 118th U.S. Open at Shinnecock Hills, the golf tournament proved exciting with lessons to be learned...
if you paid attention!
Professional golfers make errors, albeit fewer than the average player; ball striking is much crisper but nerves can still wreak havoc, with golfers dropping like flies down the home stretch.
Brooks Koepka kept his cool throughout the U.S. Open and, although he physically played golf better than the pack, it was his mental strength which led him to victory, which leads this week's
Golf for Beginners
blog to the three lessons learned from U.S. Open mistakes.
1. Golf Tip #1: Don't let nerves get the best of you.
There weren't enough deep breaths to be had as Tony Finau, Patrick Reed and even Koepka (on 18) yanked shots and  3-putted down the back nine on Sunday. A steady mind won the U.S. Open for Koepka.
2. Golf Tip #2: Don't let the round get away from you.
Not caring how the hole will turn out when you are spiraling into double or triple bogey territory is probably one of the worst ways to play a round of golf. Take time with your golf shots, make each shot count and stop the bleeding. Move on after a bad hole and make each hole its own adventure.
Case in point - Phil Mickelson striking his ball on the green while it was rolling - bad and good move - he knew that he was going to score high so he stopped the bleeding but, did he really care about his round after his two-stroke penalty? Phil finished his Saturday round with an 81...good for most amateurs but bad for one of the top players in the world.
3. Golf Tip #3: Take responsibility for your round.
It's not the course, it's not the wind...it's YOU!
Yes, even at Shinnecock Hills...
Once you stop criticizing, stop the negative self-talk and replace it with positive comments, your round will improve. An angry golfer makes mistakes. Your entire group is playing in the same conditions...deal with it.
Spain's Rafa Cabrera-Bello tweeted after a 76, "It was not a fair test of golf. Greens were unplayable, with unnecessary pin positions. USGA found a way to make us look like fools on the golf course. A pity they managed to destroy a beautiful golf course."
Best advice for a golfer facing problems during his or her round?
Stay focused in the present and stay flexible in case of surprises...that's golf!
What lessons did you learn from the 2018 U.S. Open? Comments welcome below and tag us with your thoughts on
Twitter @Golf4Beginners
.
Video: Youtube.com - GOLF TALK CANADA TV & RADIO