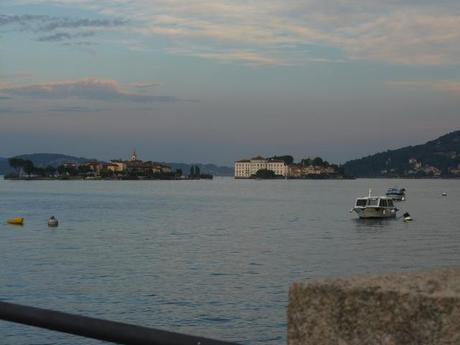 Lake Maggiore – the Borromean Bay
My sons and I have just returned from a wonderful week on Lake Maggiore which is located in the shadow of the Alps in the Piedmont area of Northern Italy.  I am constantly amazed that my sons still want to come on holiday with me and every year suspect it will be the last family holiday as they are both in their early 20s.  However, I think the reason is that we get on very well and it is more like 3 adults going on holiday together than a mother and two sons; and before you suggesting it is because they get a free holiday I should say one pays his own way and the other makes a sizeable contribution.   I did think I would cover our holiday in one post but having loaded up the first photos I think I will have to bore you over a series of posts as there are just so many views and images to share.
So to start with we were based in Baveno on the shores of Lake Maggiore which is less touristy than its sister lakes Como and Garda.  However on our first day we decided to visit Lake Orta which is the least well known lake and often referred to as the Cinderella of the lakes.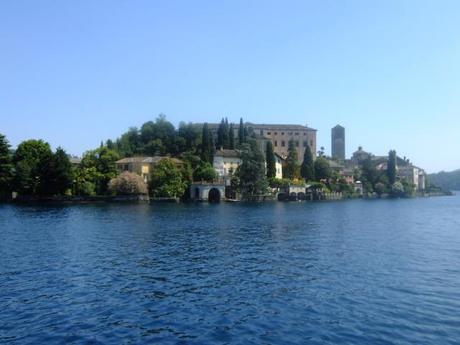 Isola di San Guilio, Lake Orta
Lake Orta is  about 45 minutes to an hour from Baveno, west of Lake Maggiore.  I first visited the village of Orta San Giulio probably 10 years ago when I went to a friend's wedding there and was completely captivated by the area's romance and old worldly charm.  You get a real feel for Italy here as the tourist industry hasn't got its claws in and you have to be able to translate the menus etc from Italian rather than been spoon-fed an English version.  There are lots of small villages/hamlets along the shore as well as grand villas presumably owned by the rich of Milan and campsites; so a real mix of scenery as you travel along.  The lake has been popular with many writers over the centuries including Lord Byron, Friedrich Nietzsche, Samuel Butler, Honoré de Balzac and Robert Browning and there is still a British run poetry festival in September.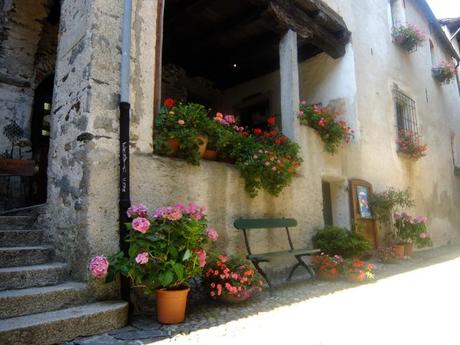 However the highlight of the lake is the island just off the shore of Orta San Giulio which shares the village's name.  The primary building is a Benedictine monastery with a Romanesque basilica which groans with frescos and sculptures and a pulpit dating back to the 12th century.  Work has been under way for some years uncovering the layers of frescos. We learnt that back in the 13th/14th century there were a serious of plagues and as a result mass had to be held outside in the open air to avoid people being in close contact. To try to prevent the disease-spreading the walls of the basilica were painted over probably with lime wash, or something similar, and the art work started again. Now the restorers have to task of deciding which frescos to keep and which to remove to see what is underneath.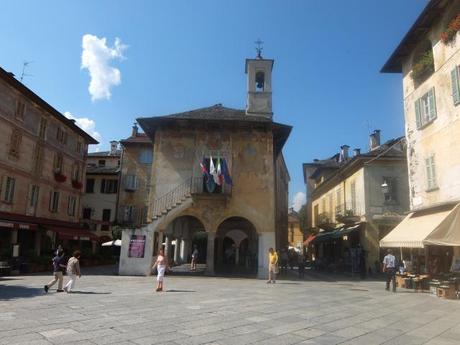 Orta San Giulio
A quick 10 minute hop across to the main land brings you to the village of Orta San Giulio.  The village is tucked in by the lake side and surrounded by the lower hills of the Alps.  As with many old Italian villages, and our Cornish villages, the roads are narrow and so cars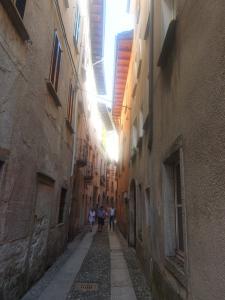 have been banned to a car park just outside the town. This has helped the village to retain its charm and character.  However, it was interesting to note the changes from my first visit.  There were definitely more restaurants and bars than before, I am sure we only had 3 or 4 to choose from and there was an increase in the number of small boats trying to attract business from visiting tourists.
We have a good wander around so I could find the tiny hotel I stayed in, the registry office and other places I had remembered.  Despite being a blistering hot day the streets and side roads were cool due to their narrowness and with the addition of the first of many ice creams last week we managed to keep cool before boarding the boat again to cross the lake back to our transportation.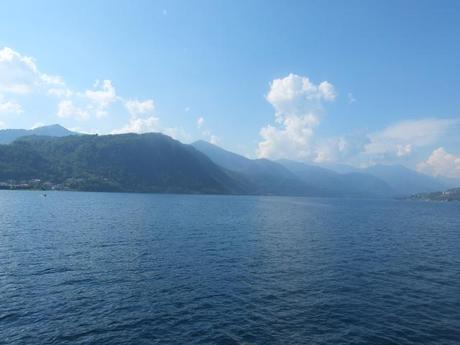 Lake Orta