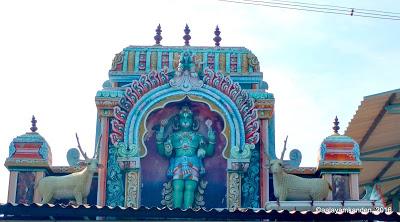 Hanuman with Deer Vahana at Ananthamangalam
Hanuman - the God of strength, valour, loyalty and devotion! We see him, mostly in Vishnu temples in a separate shrine as Siriya Tiruvadi and in Rama temples, alongside Rama, Sita and Lakshmana.
He is also found in different forms - with joined hands, holding a lotus flower and turning to one side, with five faces as Panchamukha Hanuman or in the huge Vishwaroopa form. At Ananthamangalam, we see Hanuman with three eyes and ten hands, holding weapons in each one of them as Trinethra Dasabuja Anjaneyar.
Legend of the temple:
After the war in Sri Lanka to retrieve Sita Devi, Rama was returning to Ayodhya with her, Lakshmana, and Hanuman. On his way back, he was warmly welcomed by Sage Bharadwaja to his ashram, and offered food and rest. While he was eating, Sage Narada came there to meet him. He had some news to share. Narada mentioned that although Ravana, and his army were killed in the war, there were still scions of the family who were planning revenge. Two asuras, by name Rakha Bindu and Raktha Rakshagan were meditating under the sea, to acquire special powers and they must be stopped immediately and only Rama could do it.
Rama understood the threat but was in a hurry to get back to Ayodhya, as his brother Bharata had vowed to enter the fire, if his brother did not return within a particular time. So he instructed Hanuman to slay the two Asuras and join him at Ayodhya. He gave Hanuman his bow and arrow to help him in his mission. The other Gods who were equally troubled by Raktha Bindu and Raktha Rakshagan, gave their weapons too to Hanuman. He acquired different weapons in his ten hands, that symbolised the power of the Gods - Conch and Discus of Lord Vishnu, Trident of Lord Rudra, Kapala of Lord Brahma, Vajrayutha of Lord Indra, Bow and arrow of Lord Rama, whip and butter ball of Lord Krishna, and axe and deer of Lord Shiva. Apart from this he also acquired Lord Shiva's third eye and the wings of Garuda.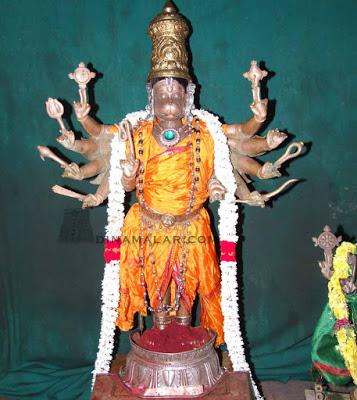 Photo Courtesy : Dinamalar.com
The empowered Hanuman set out to kill the two asuras - Raktha Bindu and Raktha Rakshagan. He dragged them out of water, overpowered and killed them. On his way back, he rested in a pleasant grove, happy that he had accomplished the task assigned to him by his Lord. This place came to be known as Aanandhamangalam to denote his frame of mind. Over time, this has changed to Ananthamangalam.
Temple Description:
The moolavar is found in a seperate shrine opposite the Rajagopalaswami temple. He is seen with three eyes and four arms. The rear arms, holding the conch and discus and the front arms, holding the whip and the butter ball. His tail has the Navagrahas etched on them. Worshipping this Hanuman is said to rid one of all the evil effects of planetary movements in one's horoscope. It is a "Graha Dosha Nivarthi Prarthanai Sthalam".
Hanuman's deer vahana is found opposite to him. A brand new deer has been installed and the retired deer relegated to the outer prahara.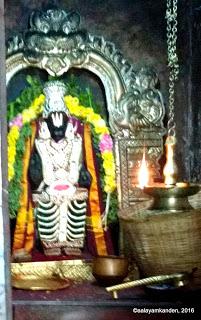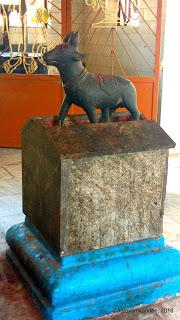 The Rajagopalaswami temple has Lord Vasudeva Perumal in the Sanctum Sanctorum, with Sridevi and Bhoodevi. The utsavar is Rajagopalaswami with Bhama and Rukmani. Sengamalavalli Thayar is found in a separate shrine.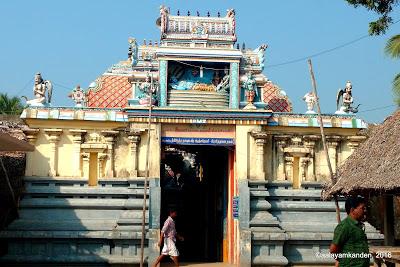 Method of worship:
Those desirous of Graha Dosha Nivarthi, adorn Hanuman with flower garlands, Tulsi garlands and betel leaf garlands, go around the shrine five times, and perform archana to the deity. This can be done both to Moolavar or Utsavar, who is found in a shrine within the Rajagopalaswami temple across the road.
Festivals and Poojas:
Special Thirumanjanam and Aradhanai are performed to Hanuman on Hanumad Jayanthi, Tamil New Year, Purattasi 4th Saturday, Deepavali and Moola Nakshatram day every month.
On Saturdays and Amavasya (New Moon Days) annadhanam is provided to the devotees.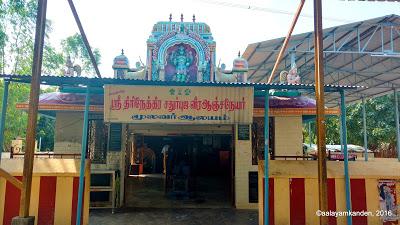 How to reach here:
The temple is found on the Chennai - Nagapattinam East Coast Road, between Thirukadaiyur and Tharangambadi about 3 kms from Thirukadaiyur . There is an arch on the main road that leads to the temple.
Temple Timings:
8 am - 1 pm, 4 pm - 8 pm. On new moon days, the temple is open from midnight the previous day till 10 pm.
Contact details: 
Moolavar - Sridhar Bhattar - 94431 91933
Utsavar - Madhavan Bhattar - 94438 85033