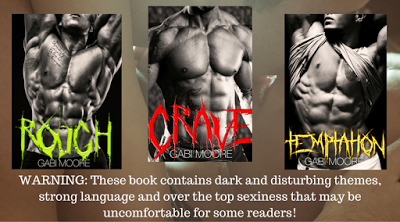 A Bad Boy Romance
by Gabi Moore
WARNING: These book contains dark and disturbing themes, strong language and over the top sexiness that may be uncomfortable for some readers!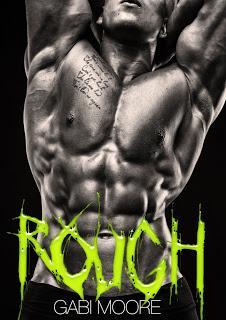 Bruises can be romantic, in their own way...
This is a
full-length, action packed romance adventure
, with
unbridled sexuality
and a lust for
righteous revenge
. In this book you will
NOT
find any damsels in distress, but there are more than a few
happy endings...
> 8 BONUS BOOKS INCLUDED IN THIS BOOK! LIMITED TIME OFFER! <
There were signs of him
all over my body...
I looked down at the marks round my upper thigh, like the scattered blue petals of a strange flower. If they had been put there by anything other than
his hands
, they would have seemed ugly to me.
... But they hadn't. And so they didn't.
One look at my body and you could tell that
he
had been there...
... on me -
in me.
Read for FREE with Kindle Unlimited!
 AMAZON 
 
This guy is unreal, I thought, in a sex-fueled delirium.

He pushed my head down into the fabric of the couch. I could feel his fingers digging into my scalp, and as though he could read my mind, he formed his fingers into a fist and began to pull my hair while pushing me down — sending me into a cocktail of pleasure and pain.

I grit my teeth, and spread open for him, wanting him to continue, but also wanting him to finish inside of me.

I was looking for the moment when his pride would come down, and he could join me in a collapsed heap on the couch.

At the rate he was going, that didn't seem like it would happen too soon...

Read for FREE with Kindle Unlimited!
AMAZON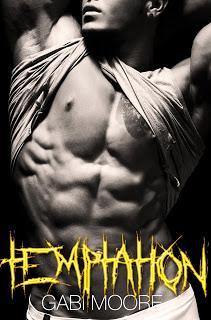 A promise is a promise... 
... but when a tiny seed of doubt creeps into Violet's mind, she embarks on a dangerous game that quickly leads her down paths she isn't yet prepared to travel. 
Luckily, there's someone nearby that shows her that she's not the only one with hidden desires… 
Soon, the two find themselves in a dark, delicious new world they can't help but create together. This hidden world teaches Violet about trust, about submission, and that sometimes, the best promises are made to be broken
. 
Read for FREE with Kindle Unlimited!