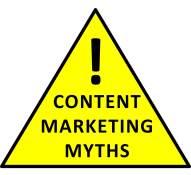 The popularity of content marketing is on the rise because compelling content can help you attract consumers, increase your brand awareness, endorse your thought leadership and bring more visitors to your web site.
If you're in the midst of creating your content marketing plan, take note of the following myths that may prevent you from reaping the benefits of your content marketing strategy.
Myth #1: Content marketing is all about selling my brand
Truth: Blogs, white papers and social media messages are a fantastic way to attract customers; however, be wary about turning your content marketing into barefaced sales pitches. If you don't establish relationships and gain trust with potential customers first, you'll lose them faster than it takes to retweet a message. The majority of your content should inform and educate potential customers and help solve one of their key problems. Once your prospects view you as a reliable and supportive resource, they will be more likely to turn to you if they need your product or service.
Myth #2: Tweet and thou shall get noticed
Truth: The average lifespan of a tweet is about one hour, so if you don't get retweeted or notice more traffic to your site in that time, tweak and re-post.
This principle applies to all of your online efforts. In order to reach a broader audience, try different formats on different channels. For example, you can turn a series of blog posts into a white paper or create an educational video and share it across your social networks.
Myth #3: Search engines are what matter most in content marketing
Truth: At the end of the day, keyword-rich content can help improve your search engine rankings and bring more visitors to your website, but unless you engage the audience, don't expect them to keep coming back.
When readers find your content valuable, they will share it with their networks organically. The inbound links to your web site will add more value to improve your Google rankings than packing your copy with keywords.
Have you encountered any myths about content marketing? Feel free to share your thoughts below.