This impressive Thousand Hand Quan Yin was a dance created by Chinese choreographer Zhang Jigang. The dance was performed by 63 deaf dancers of China Disabled People's Performing Art Troupe. Because they could not hear the music, there were 6 directors in white clothes helping them stay synchronized with the music.
The dance describes the legend of the Bodhisattva Quan Yin, who had one thousand hands. Bodhisattva Quan Yin is a "Proto-Buddha". She cannot become a Buddha because she remains devoted to the world. Her vow is: "If a single tear is still being shed in this world, I will not become a Buddha."
In Secret Doctrine, of HPB, and Spiritual Astrology, of Master EK, it says: "Kwan-Shai-Yin is identical with, and an equivalent of the Sanskrit Avalokiteshwara, and as such he is an androgynous deity. Under his female aspect, he becomes Kwan-Yin, the goddess of mercy, called the "Divine Voice." In the Vedic and the Puranic symbolism, this plane of the divine Word is also called Gayatri, the Great Mother of the Dawn. The World Mother is called the Virgin, who finds her expression as a principle in nature and in man through the sign Virgo." I have done a painting about Quan Yin for the month of Virgo.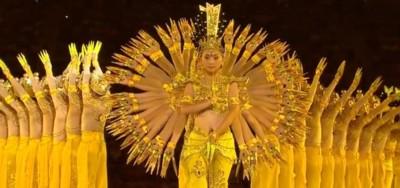 Picture from the video (c)