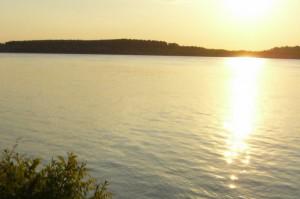 It's a popular perception of writers, based at least a bit in reality, that we tend toward the eccentric. Maybe even a little obsessive. We're known for things like keeping odd hours and stashing pens and paper in the car or on the nightstand; for saying things like "That'd make a great story," or "I read a book where that happened." Most other vocations endorse occasional time off, but we say that the truly dedicated write every single day. Normal professionals view the desire to earn more as perfectly respectable, but deep down, many of us believe that working out of anything but pure love of the written word proves one to be unworthy of lucre, filthy or otherwise. The partly real and partly romanticized idea that creative types do things that don't make sense (and are perhaps a little crazy) continues to speak of the implicit passion in the culture of writers.
The Gospels provide plenty of evidence that Jesus would have been considered eccentric to say the least. He too kept odd hours, sneaking off to pray early in the morning (Mark 1:35) and napping at sea (Luke 8:23). He told stories that drew crowds, yet even His disciples needed private explanations to understand them (Mark 4:33-34). Jesus kept the Law, but was and is Lord even of the Sabbath (Mark 2:28). As for any financial profit of His work, He allowed a thief to hold His money (John 12:6) and paid His taxes with a coin found inside a fish's mouth (Matthew 17:27). What kind of singular passion did His mission require?
The word passion sparks to mind ardent love, and whether used to convey zeal, romance, or fleshly temptations, it carries a note of obsession. However, its Latin root reveals what passionate hearts often discover on their own. Passiō is a word for suffering. We find this in Scripture, as the KJV refers to Christ's "passion" in Acts 1:3, where other translations, including the NKJV and NASB, render the word as "suffering."
We're in the middle of Holy Week, preparing to celebrate Easter Sunday in a few days. As we draw nearer to this special day of worship, I consider with wonder that the Creator Himself, the first "creative type," set a standard of passion that we would recognize today. The passion of Jesus Christ did not seem to make sense. Peter did not understand it when Jesus explained to His disciples that He would suffer and die and be raised up after three days (Matthew 16:21-22). The high priest and Pilate did not understand when Jesus refused to offer a defense at His sham trial (Mark 14:60; 15:4). Cleopas, speaking to the risen Christ unawares, did not understand why the mighty prophet believed to be the One who would redeem Israel was crucified instead (Luke 24:18-21).
Christ's suffering makes no sense without understanding His love. As He told His disciples in John 15:13, "Greater love has no one than this, that one lay down his life for his friends." As Paul wrote to the Romans and to us, "But God demonstrates His own love toward us, in that while we were yet sinners, Christ died for us" (Romans 5:7). My prayer is that our passion would help us to picture His, and that we would be humbled and awed that fellowship with mankind would be the object of His passion.