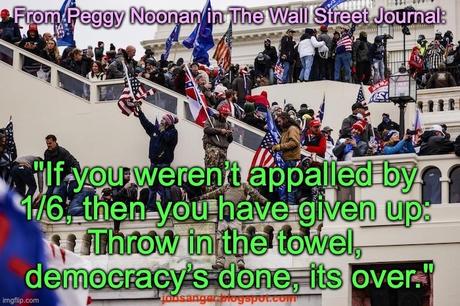 We are coming up on a date that every American remembers -- July 4th, the date our Declaration of Independence was adopted, creating our new and independent nation. I hope every American continues to remember this date.
But there are other dates that should always be burned into the memory of every American -- dates that should forever live in infamy -- April 12th (the day the Civil War started), December 7th (the attack on Pearl Harbor), November 22nd (the assassination of President Kennedy), April 19th (bombing of the federal building in Oklahoma City), and January 11th (the attack on the Twin Towers and Pentagon).
Americans who love their democracy must now add another infamous date -- January 6th (the date our Capitol Building was attacked). This insurrection is at least as important as the dates listed above, because it was an attack at the heart of our democracy -- the holding of free and fair elections. Anyone not horrified by the January 6th attack does not believe in our democracy.
The following is a small part of an op-ed by Peggy Noonan in The Wall Street Journal: 
Anyway, Capitol Hill was asleep at the switch. 
I want to say something about the meaning of 1/6 and why it is so important we set ourselves to knowing all that happened that day. 
It's not just "the past" and we can't just "move on." It's a story that's still happening.
People experienced it differently. Most of us were chilled and horrified as we saw the pictures of men in assault gear climbing the face of the Capitol, breaking in, swarming the Rotunda. It was a shock to see the Capitol breached. 
But some weren't horrified. They see the Capitol as already trashed through decades of bad governance, and now a stolen election. Jan. 6 was merely the physical expression of a longtime fact, that the vandals had already arrived and were wearing congressional pins. 
To the horrified, the Capitol is a symbol and repository of our republic, our democracy. Those we choose to represent us do their work there. It may be a mess and a bit of a whorehouse but it's always been a mess and a bit of a whorehouse, because it's human. And yet greatness can erupt there, progress can be made, things improved. 
It's what as a nation we've got. It's our only hope. 
If you weren't appalled by 1/6, then you have given up: Throw in the towel, democracy's done, its over. Those who know it's not done, not over, who won't allow it to be done and over, also know that democracy needs friends right now.