Masterclass is a program where world-renowned professionals in a field reveal their secret sauce in an elaborate class and these can be in areas such as sports, academia, and lifestyle. Thomas Keller is a lifestyle teacher who specializes in culinary activities and he has come with a second coaching program where he teaches meats, stock, and sauces.
Keller teaches ways to sauté, pan, oven roast, braise, fry, grill, and select the best cut of meat which is used in his restaurant. He also reveals the right way to make the stocks and sauces which are essentials in his restaurant kitchens. These non-veg dishes are necessary for chefs in most parts of the world but is also a fantastic skill to have for family dinners and cooking for guests at home.
Keller's online coaching has 22 classes which detail the various culinary techniques and process which are used in his kitchen. Time and temperature are really crucial to cooking but techniques and process used to make a meal can make a huge difference. Keller teaches every technique used in his restaurant to create delicious salivating meals.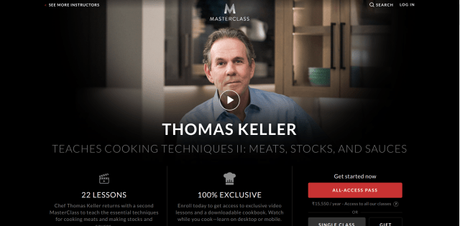 Meat
Meat is the core ingredient in a non-veg dish. It is different from vegetarian ingredients because it requires marinating with the right flavors for the right time to make it delicious. Keller teaches the right way to saute, pan, roast, braise, and grill meat.
Meat should be cooked well with enough flavors for sauces to have a useful effect as it cannot make up for poorly cooked food. It has to be cooked in such a way so it becomes easily digestible but satisfies the taste buds.
Sauteing is a method of cooking which uses a small amount of oil in a pan and heats the pan at a high temperature which is commonly used for cooking meat. Sauteing of meat is done by deglazing the pan's residue to make a sauce
Braising is a combination cooking method which uses sauteing at high temperatures and cooking at low temperatures. It involves mixing of food and liquid.
Keller's coaching program has fourteen classes on sauteing, braising and grilling meat. He specifies sauteing and braising techniques for chicken, pork, and duck. Here are the classes:
1. Class 1: Introduction
Keller is back for another Masterclass program with new techniques straight from his restaurant kitchens on how to cook meat, adorn it with sauces and stocks to make an amazing meal. His philosophy lies in understanding and enjoying the techniques and processes used to cook food, as does the time and temperature employed for properly cooked food stated in cooking manuals.
2. Class 2: Getting Started: Meat Cuts and Quality
Meat cuts have grades which can vary for beef, pork, and poultry. Keller teaches students the difference between choice and prime, marbling, purpose of air drying meat, wet aging and dry aging. Prime and choice are orders of grades of meat, from highest to not as high but still quality meat. Marbling shows the fat found in a cut of meat between muscle fibers.
A high-quality steak has lots of marbling and lean cut has less marbling. Meat is dried in warm air which is the oldest form of meat preservation. Dry aging consists of hanging pieces of meat in the open air at just above freezing temperature for the enzymes to break down tissues to make it tender.
Also, read:
Wet aging consists of vacuum-sealed meat where aging takes place over the course of meat transit from supply to market. Keller goes in-depth into these topics as they form the basis to check for the quality of meat and quality is everything.
3. Class 3: Sauté: Chicken Paillard
Keller teaches students his paillard technique for sauteing chicken through a light dish finished with a saute. The technique is for making thin cuts of chicken for the saute to make it more effectively reach the inside of the chicken by pounding the protein.
4. Class 4: Sauté: Wiener Schnitzel
Keller uses veal top round to teach his students techniques for achieving an airy, crispy layer of breading. It can be used to make tasty cutlets with a fine layer of breading on top to provide a crisp flavour. He also tells them what way to achieve the right seasoning and provide a delicious flavor to the meat.

5. Class 5: Fried Chicken
Keller teaches students on how to make fried chicken served at his restaurant. He focuses on the right chicken cut and brine the chicken to fry the chicken piece. Brining chicken makes it soft and flavourful. It is required to have the right brine for the chicken. Frying properly requires an understanding of temperature and time it would take cooking the chicken.
6. Class 6: Technique: Oven Roasting Overview
Keller provides an overview of the meats which students roast in the next three classes, which are three cuts of beef, two cuts of lamb, and a chicken. He teaches how to calibrate oven and the requirement to bring proteins to the right temperature to properly roast.
7. Class 7: Pan Roasting: Duck Breast
Keller teaches students his pan-roasting technique for Pekin duck breast, such as how to render the fat for a crispy skin and achieve the perfect medium-rare finish. He also teaches how to make a honey-orange gastrique sauce for a sweet and sour finish.
8. Class 8: Pan Roasting: Côte de Bœuf
Keller considers côte de bœuf, or rib steak, as a celebratory dish, built for sharing. It is beef ripped from the ribs of cattle. It can have rib bones attached and removed. Keller teaches students how to air-dry, truss, and roast a rib steak, and how to make a maître d'hôtel butter for the flourish.
9. Class 9: Oven Roasting: Chicken
Keller describes oven roasted chicken as his first choice for his "last meal." Keller teaches students how to roast chicken in an oven. Keller explains the benefits of bringing and air-drying and teaches ways on how to truss and roast a chicken in a single pot with vegetables. Air drying is used for meat preservation.
10. Class 10: Oven Roasting: Blowtorch Prime Rib Roast
The main ingredient is a rib roast achieved by a propane blowtorch. Keller's technique for a prime rib roast which is the best rib roast cooked to an even medium rare in every slice makes for a very delicious heavy meal.
11. Class 11: Technique: Braising and Braising à la Matignon
Keller teaches students the principles of braising and the role of mirepoix, marinating, and matignon in making cuts of meat flavourful and salivating. Mirepoix is a flavour base for the meat made from diced vegetables. Matignon is a mirepoix where vegetables are mixed rather than diced. Keller delves deep into the principles behind preparation of flavour bases for the braising process.
12. Class 12: Braising: Pork Shoulder à la Matignon
Processes on how to truss, sear, and oven-braise a pork shoulder à la matignon with celery root, apples, and onions in a traditional cast-iron cocotte are described here.
13. Class 13: Braising: Red Wine Braised Short Ribs
Keller teaches students how to braise short ribs through a slow-cooked recipe which requires some patience but its well worth the time it takes to cook. Process which describes how to make a red wine marinade, clarify it to become the base of the sauce, and reduce to a finishing glaze are used for short ribs.
14. Class 14: Grilling on a Hibachi: Steak, Lamb Chops, and Chicken
Keller teaches students his techniques for grilling a variety of proteins on a stove top hibachi. Choosing right fuel and maintaining safety while grilling indoors is a priority for cooks.
Stocks and Sauces
A stock is a liquid flavoring base for sauces. Meat stocks are prepared by simmering meat in water. Mirepoix and matignon are added for flavor. Keller teaches how to make the best meat stocks.

Keller's coaching has three classes on stocks. Here are the classes:
Class 15: Stocks, Broths, and Jus: An Overview
Stocks are a key feature in Keller's restaurants. Keller teaches students stock-making fundamentals, ingredients and techniques employed to make stocks and broader applications of stocks in various dishes.
Class 16: Roasted Veal Stock
Keller teaches how to make a restaurant-quality veal stock with a pressure cooker which becomes the base of sauces and recipes, including Brown Chicken Quick Sauce which he teaches on how to prepare in another class.
Class 17: Light Chicken Stock
Keller teaches steps to prepare light chicken stock through simmering, clarifying, straining, and storing the light chicken stock. Its used to cook pasta and as a base for soups and sauces in his restaurant.
Sauces are liquid and semisolid additives to provide flavor to food but aren't part of the cooked meal itself but added inside of it and on top of it. They are vital for providing distinct flavors to the meat and enhancing the taste of meat.
Quick links:
Keller's coaching has four classes on sauces and a closing class with some parting wisdom. Here are the classes:
Class 18: Sauces: An Overview
Keller reads through the definition of a sauce and provides an overview of some the most common French sauces used in his kitchens with their pair protein.
Class 19: Vinaigrette, Emulsified Vinaigrette, Sauce Vierge, and Pickled Chow Chow Vinaigrette
Keller teaches how to make a variety of sauces such as basic oil-and-vinegar vinaigrette; a creamy vinaigrette, emulsified with a raw egg yolk and mustard; a sauce vierge; and a chow-chow vinaigrette, from vegetables. Vegetables used are chopped and pickled before making the sauce.
Class 20: Chicken Velouté and Sauces Suprême, Allemande, and Albufera
Using the light chicken stock Keller teaches preparation technique to make velouté. He uses veloute to make three more versatile sauces.
Class 21: Brown Chicken Quick Sauce and Sauce Chasseur
Keller developed this sauce when he developed The French Laundry. Keller teaches how to build flavor by browning chicken parts, caramelizing vegetables, repeatedly glazing and reglazing, reducing, and clarifying.
Class 22: Closing
Keller concludes his coaching classes and reminds students to be patient and practice the techniques he teaches and come up with their own ways from what they have learned with the course.
Thomas Keller
Thomas Keller is an American chef, restaurateur, and cookbook writer. He founded The French Laundry restaurant in Yountville, California, which won multiple awards from the James Beard Foundation. The restaurant consistently wins the list of the Top 50 Restaurants of the World. He has won three stars from the Michelin Guide for his restaurant Per Se, three for The French Laundry and one for Bouchon.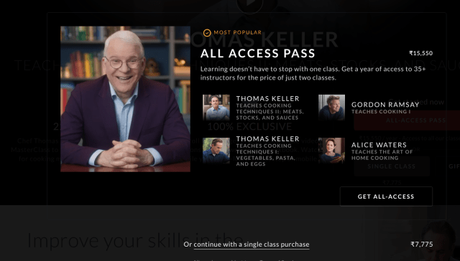 Keller's coaching program is available as a one time purchase for Rs 7775 with just his classes included in the Single Pass. They can also be bought for Rs 15550 per annum in a subscription service which includes access to other masterclasses, which consists of the previous Keller program. Subscription service provides more benefits while Single Pass is a more affordable option for those just wanting Keller's classes.
Conclusion: Thomas Keller Masterclass Review
To sum up this article I would say there is no better way to learn about cooking than with Thomas Keller himself. With his amazing skills, you will get to know each detail which you need to pay attention to while cooking.
Though this masterclass can become a little boring during its course, if you have the passion to learn cooking and develop skill to impress others then you can surely go for this masterclass.