Some people read chick-lit, others read crime thrillers. Well I read a lot of old street directories to see how our streets have changed over the decades. It's a good research tool for my guided walks.
Earlier this year whilst perusing
Kelly's 1888 listings
 I noticed that Judd's of No.123 Holloway Rd was listed back then and was still trading in 2018 which made it, in my estimation, the oldest shop on the street. This business, located a few doors down from St Mary Magdelene, would have been the 'go to' local shop for headstones and stone monuments.
I say 'was' because if you walk past it today you will see that it's now closed and empty: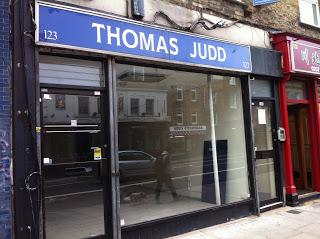 Disappointing to me that 150 years ago this shop would have had a marvelous shop front with carvings and gildings but over the years all the elaborate Victorian signage has been replaced. You'd at least expect today to see something that says, "Established [year]" on there. I can find no reference of how the shops used to look.
So I hunted for info and discovered an article from July 2018 which probably 
explains why the shop has closed
. Whether the report is true or not it's such a shame that Thomas Judd's descendants got into such a financial mess.
I will now have to find another candidate for longest-serving-still-open shop on Holloway Rd. It's probably Selby's.