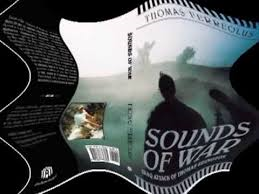 Today I have Thomas Ferreolus with us. He has kindly agreed to answer a few questions about his book " Sounds of War".
1) How did you come up with the title of your book?It was easy to choose the title because I wanted to give the story a sense of realism by involving all of the sensory perceptions, including the readers hearing...hence, Sounds of War.
2) How much authenticity is included in the book?Sounds of War is based on world events but the details are purely fiction. 3) What are you working on now? Including two follow up books and screen plays to Sounds of War, I have several other creations in the works. I am working on an action/comedy that I am real excited about. However I have other projects in the hopper that include; suspense, romance, fantasy, and science fiction.   4) Do you see writing as a career?Funny thing, I consider myself a hobbyist of the arts before a full time writer because on the larger scope of life, I write very little.  I grew up in a blue collar family and I still look at myself as such.  My full time job involves zero creativity, so I just include writing as one of many things in my bag of tricks.  That being said, I have sold many paintings over the years and have always thought that I would be remembered a hundred years after my death for my paintings, or  maybe some other art form like sculpture, and or even photography/film, not for my writing.  5) What genre would you classify your book in?  (Historical Fiction) Fiction/War & Action... I know that this genre is targeted towards the more masculine but I am extremely surprised at reception of the cross over. The fact that I am getting more women telling me they love this book has really caught me off guard.  I thought I was writing a real guy's story... 6) How can readers contact you?  

[email protected]

 7) What are you reading now? I really love historical fictions... 8) What was the main thing you hoped your readers would grasp from "The Sounds of War"?Outside of my first rule of pure entertainment, I wanted to bring it real to the reader and offer them something that they wouldn't find anywhere else. 
9) What is the hardest thing about writing a novel?Good question Julie... Although my background in film is merely at the Bachelorette level only, I went at this project in how I would approach creating a film.  Writing Sounds of War I attempted to create a dynamic in which one might find or geared towards the nature of how a screenplay might flow.  The original story was written in the first person, then I wrote the screenplay, and before finalizing the book I fused the two together.  For me this approach in writing improved both the screenplay and the book. Overall I feel the screenplay is far superior than the book, the success of the audio book  validates that the dialog works.  I look at this book as the first book of three and only part of the bigger picture; screenplay, book/kindle, audio book, and movie/series.   Though the movie/series has not been done yet, it will be the final conclusion to this project, and until its creation, the book project will never be complete.  So the hardest thing for me to deal with is that it is not just completing a novel but all together a larger animal in the scope of things. 10) Do you a favorite quote you would like to share with us?


I have so many and include them in my book but the classics are the best...

"Terror upon terrors run shouting through his soul. In all his cringing attitudes, the God-fugitive is now too plainly known.  The sailors mark him; more and more certain grow their suspicion of him, and at last, fully to test the truth, by referring the whole matter to high Heaven, they fall to casting lots, to see for whose cause this great tempest was upon them."  Moby-Dick by Herman Melville



Thomas Ferreolus, adventurer and great outdoorsman, proudly served during Operation Iraqi Freedom. Loving a good cliff hanger, he continues to write fictions in the Pacific Northwest where he now resides with his beautiful wife, and family.
Thanks so much for your time Thomas. "Sounds of War" is available in e book or audio book format at Amazon.com.