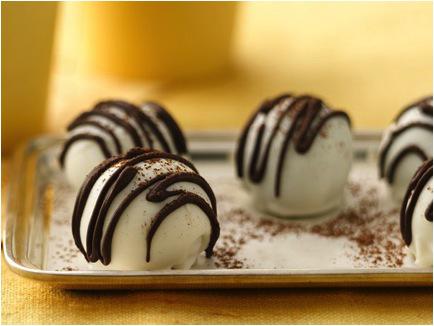 This week's featured Make Me, Bake Me dessert: Black and White Truffles
What's not to love about small, bite-sized confections? My love affair with pint-sized sweet treats is a deep one, as I just can't get enough of these mini darlings. Itty-bitty desserts markedly captured me when I discovered cake balls and quickly parlayed into all micro-sized sweets (think truffles, baby cupcakes, and miniature cookie sandwiches). Fittingly, this week's featured Make Me, Bake Me (sans the Bake Me step) will leave you in a state of total dessert bliss, as these lil' darlings are the perfect ending to any type of savory fare. They're like little tuxedo'ed truffles waiting to escort you to confection nirvana. No travel reservations required. Enjoy…
Ingredients
1 package (1 lb 2 oz) crème-filled chocolate sandwich cookies
1 package (8 oz) cream cheese, softened
36 oz (from two 24-oz packages) vanilla-flavored candy coating (almond bark)
1/2 cup semisweet chocolate chips
1/2 teaspoon vegetable oil
Directions
Line 2 cookie sheets with waxed paper. Place cookies in large food processor. Cover; process with on-and-off pulses until consistency of fine crumbs. In large bowl, stir cookie crumbs and cream cheese until well blended and mixture forms a dough-like consistency.
Chop 8 oz of the candy coating; stir into dough mixture. Roll dough into 1-inch balls; place half on each cookie sheet. Freeze about 30 minutes or until very firm.
In small microwavable bowl, microwave half of remaining 28 oz candy coating on High 1 minute 30 seconds; stir. Continue microwaving and stirring in 15-second intervals until melted and smooth.
Remove half of the balls from freezer. Using 2 forks, dip and roll each ball in coating; return to cookie sheet. Melt remaining candy coating; dip remaining balls.
In 1-quart resealable freezer plastic bag, place chocolate chips and oil; seal bag. Microwave on High 35 to 50 seconds, squeezing chips in bag every 15 seconds, until chips are melted and mixture is smooth. Cut small tip from bottom corner of each bag. Drizzle chocolate over truffles. Refrigerate 30 to 45 minutes or until chocolate is set. Store covered in refrigerator.
Makes about 6 dozen truffles
Source: Pillsbury