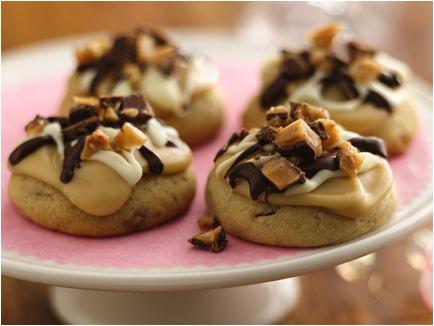 This week's featured Make Me, Bake Me dessert: Glazed Toffee BonBons
What makes a cookie go from good to ridiculously great? When it's drizzled in toffee, chocolate, and vanilla and then sprinkled in toffee candy pieces. Oh, yeah…gooey toffee, chocolately chocolate, and rich vanilla glazes are strategically layered to form this decadent triple-layered treat. (That's right. THREE layers of glaze, for those of us who subscribe to more is more.) Imagine a cookie crossed with a candy bar. (Is that even legal?) Now imagine complete and utter dessert euphoria. Happy baking…
Ingredients
Cookies
1/2 cup butter or margarine, softened
1/2 cup packed brown sugar
1/2 teaspoon vanilla
1 egg
1 3/4 cups all-purpose flour
1/4 teaspoon baking soda
1/4 teaspoon salt
3 bars (1.4 oz ea) chocolate-covered English toffee candy (e.g. Heath bits), finely chopped
Glaze
1/4 cup butter or margarine
1/2 cup packed brown sugar
3 tablespoons milk
1 1/3 cups powdered sugar
1/3 cup semisweet chocolate chips
1/3 cup white vanilla baking chips
Directions
Heat oven to 325°F. In large bowl, beat 1/2 cup butter, 1/2 cup brown sugar, the vanilla and egg with electric mixer on medium speed until light and fluffy. On low speed, beat in flour, baking soda and salt. Reserve 1/3 of the chopped candy for garnish. Stir remaining chopped candy into dough. Shape dough into 1-inch balls. On ungreased cookie sheets, place balls 1 inch apart.
Bake 11 to 14 minutes or until edges start to brown and tops of cookies feel set when tapped. Place cooling racks on waxed paper. Immediately remove cookies from cookie sheets to cooling racks.
Meanwhile, in 1-quart saucepan, heat 1/4 cup butter, 1/2 cup brown sugar and 2 tablespoons of the milk over medium-low heat, stirring frequently, until mixture just comes to a boil and sugar is dissolved. Stir in powdered sugar; beat with wire whisk if necessary to remove lumps. Immediately dip tops of cookies into glaze, or spread glaze on tops of cookies. (Cookies don't need to be completely cooled, just firm and set.) Place on rack; let stand about 10 minutes until glaze is set. If glaze starts to set in saucepan, reheat over medium-low heat and beat with whisk until softened.
Place chocolate chips and vanilla chips in separate small microwavable bowls. Microwave each on High 1 1/2 to 2 minutes, stirring every 30 seconds, until melted and smooth. Using tip of spoon, drizzle each flavor generously over cookies. Sprinkle with remaining candy. Refrigerate 20 minutes to set quickly.
Makes about 4 dozen cookies
Source: Betty Crocker