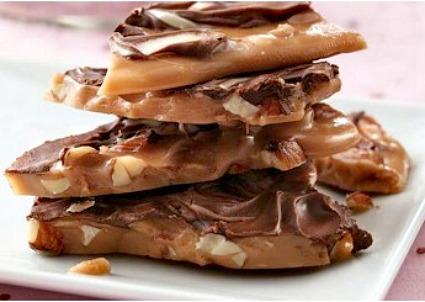 This Week's Make Me, Bake Me: Chocolate Almond Toffee
Question: what's not to love about homemade butter toffee drizzled in chocolate and crunchy almonds? Answer: absolutely nothing! This Week's Make Me, Bake Me is just a "Make Me" as there's no baking involved. (And, seriously, what beats a no-baking-necessary kind of dessert?!?) This insanely delicious toffee will not only rock your sweet tooth world but can also make awesome gifty gifts. Just throw some in cellophane wrap or a tin with a little ribbon and, voila, instant gourmet gift! Happy baking making, dessert lovers…
Ingredients
Toffee
1 cup butter
2 tablespoons light corn syrup
2 tablespoons water
1 cup sugar
1 cup chopped almonds (toasted)
Topping
1/2 cup semisweet chocolate chips
3 oz vanilla almond bark, chopped
Directions
Line 15 x 10 x 1-inch pan with foil. Butter foil.
In 2-quart saucepan, mix butter, corn syrup, water and sugar. Cook over medium heat until sugar dissolves and mixture boils, stirring constantly. Cook until candy thermometer reaches soft-crack stage (290°F). Remove saucepan from heat. Quickly stir in almonds. Pour mixture into buttered foil-lined pan. Let stand 2 to 3 minutes to harden.
Sprinkle chips over hot toffee; let stand 1 to 1 1/2 minutes to soften. With knife, swirl softened chips over toffee. Refrigerate about 30 minutes or until chocolate is set. Break toffee into serving-size pieces.
Source: Pillsbury