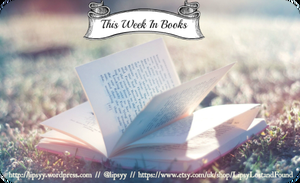 Hosted by Lipsyy Lost & Found my Wednesday post gives you a taste of what I am reading this week. A similar meme is run by Taking on a World of Words
March reading has started well with a couple of cracking books that will be published later this month but my This Week in Books is starting with a break from the new and shiny and making sure I keep reading those from my (extensive) pile of books that I have bought with my hard-earned pennies!
I am currently reading Cut Short by Leigh Russell which I purchased on 16 February 2014 – yes three patient years it has been waiting to be chosen!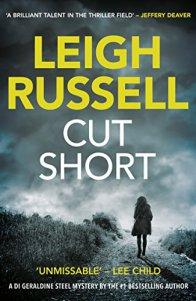 Blurb
When DI Geraldine Steel relocates to the quiet rural town of Woolsmarsh, she expects to find her new home to be somewhere where nothing much ever happens; a space where she can battle her demons in private. But when she finds herself pitted against a twisted killer preying on local young women she quickly discovers how wrong she is…

By day, the park is a place for children's games, for people walking their dogs or taking a short cut to avoid the streets. But in the shadows a predator prowls, hunting for a fresh victim. When an unwitting bystander comes forward as a witness she quickly becomes the next object of his murderous obsessions. . .

DI Geraldine Steel is locked into a race against time, determined to find the killer before they discover yet another corpse. But can she save the lives of the town's young women – or will Geraldine herself become the killer's ultimate trophy? Amazon
I have just finished the deeply disturbing Anne Perry and The Murder of the Century by Peter Graham, in it the author grapples to find an explanation why two teenage girls would murder one of their mothers.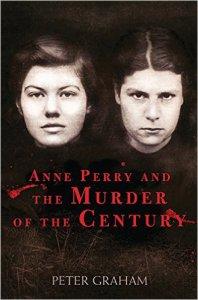 Blurb
On June 22, 1954, teenage friends Juliet Hulme–better known as bestselling mystery writer Anne Perry–and Pauline Parker went for a walk in a New Zealand park with Pauline's mother, Honorah. Half an hour later, the girls returned alone, claiming that Pauline's mother had had an accident. But when Honorah Parker was found in a pool of blood with the brick used to bludgeon her to death close at hand, Juliet and Pauline were quickly arrested, and later confessed to the killing. Their motive? A plan to escape to the United States to become writers, and Honorah's determination to keep them apart. Their incredible story made shocking headlines around the world and would provide the subject for Peter Jackson's Academy Award-nominated film, Heavenly Creatures.

A sensational trial followed, with speculations about the nature of the girls' relationship and possible insanity playing a key role. Among other things, Parker and Hulme were suspected of lesbianism, which was widely considered to be a mental illness at the time. This mesmerizing book offers a brilliant account of the crime and ensuing trial and shares dramatic revelations about the fates of the young women after their release from prison. With penetrating insight, this thorough analysis applies modern psychology to analyze the shocking murder that remains one of the most interesting cases of all time. Amazon
Next up something gentle? No, but it is something that looks very good indeed; The Legacy by Yrsa Sigurdardottir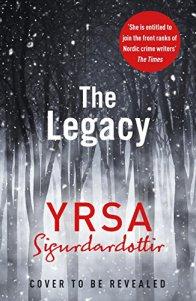 Blurb
The murder was meant as a punishment – but what sin could justify the method?

The only person who might have answers is the victim's seven-year-old daughter, found hiding in the room where her mother died. And she's not talking.

Newly promoted, out of his depth, detective Huldar turns to Freyja and the Children's House for their expertise with traumatised young people. Freyja, who distrusts the police in general and Huldar in particular, isn't best pleased. But she's determined to keep little Margret safe.

It may prove tricky. The killer is leaving them strange clues: warnings in text messages, sums scribbled on bits of paper, numbers broadcast on the radio. He's telling a dark and secret story – but how can they crack the code? And if they do, will they be next? Amazon
So even for me that is a week full of murder and mayhem!
What are you reading this week – do share in the comments below!