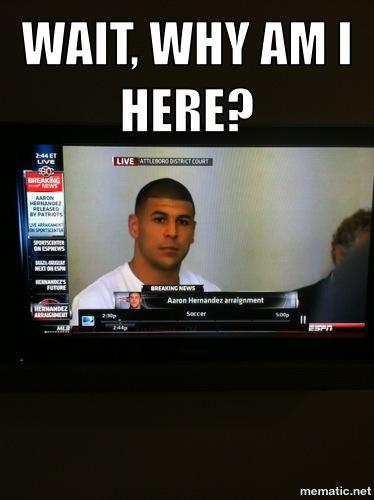 Let's just say I'm looking forward to this one more than the time they tried to make Dzhokhar Tsarnaev look like a martyr.  Rolling Stone dropped some juicy nuggets from their upcoming story on Aaron Hernandez.
Via Rolling Stone:
• Hernandez was a heavy user of angel dust, and had become so paranoid over the last year that he carried a gun wherever he went.
• He surrounded himself with a cohort of gangsters, and cut himself off from his family and teammates. 
• Hernandez had so infuriated his head coach, Bill Belichick, with missed practices and thug-life stunts, that he was one misstep from being cut.
• Both his parents, Dennis and Terri, had criminal records, as did much of his extended family.
• Terri allegedly cheated on Dennis before his death with a violent drug dealer named Jeffrey Cummings, then married Cummings after Dennis died and moved him into the house she shared with Aaron.
• In college his coach (then-University of Florida head coach Urban Meyer) may have helped cover up failed drug tests, along with two violent incidents — an assault and a drive-by shootout outside a local bar.
Drugs, guns sex, gangsters, corrupt college coaches and of course Bill Belichick means they might as well make this into a Lifetime movie and call it a day.  Seriously, I'm guessing there's a movie before the trial.  Hump day just got better!