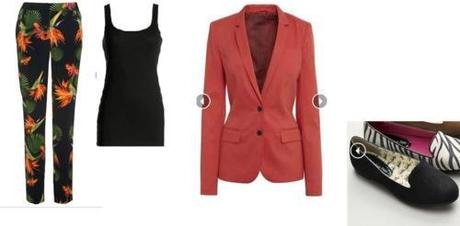 This 'spring' weather is certainly hard to dress for! I left the house yesterday in the rain and by lunchtime the clouds had parted and the sun was shining, leaving me a little more than hot under the collar!
I've pieced together this little outfit to help navigate this weather!
These print trousers from Next (http://www.next.co.uk/g3772s6#835472g37) are bang on trend and will look great come rain or shine! Paired with a simple black vest top and a fun coloured jacket to match the color on the trousers (http://www.next.co.uk/x4930s1#835543x49), the outfit doesn't leave you exposed to the elements but the print on the trousers means you can easily take the jacket off when the sun comes out and still be in a great outfit!
Pair the outfit with these on-trend slipper style shoes (http://www.next.co.uk/x49362s2#727090x49) and your toes will stay dry in the rain and won't overheat should the sun make an appearance!
Add an orange or black bag (depending on how much of a statement you want to make) and don't forget an umbrella (we are still in the UK after all!) and you'll be perfectly equipped for looking chic and stylish innthe unpredictable British weather!