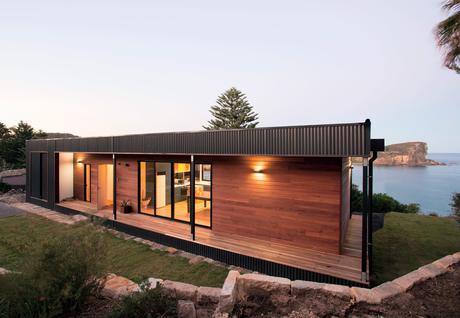 A prefab house designed by ArchiBlox on the northern beaches of Sydney sustains high winds and spray from the surf, so the firm wrapped the exterior in marine-grade Colorbond Ultra steel. Panels of Queensland blue gum, a native Australian hardwood, clad the street-side facade, which is protected from the harsh climate. 
Project  Avalon House Architect 
ArchiBlox
When Richard and Jackie Willcocks started looking to build a house on the northern beaches of Sydney that could be completed by Christmas 2014, less than a year away, they knew it had to be prefab. Richard, who runs a boutique snowboard business, and Jackie, a medical student, once lived in a shipping container apartment building in Canberra and had watched as one half of the six-story block was assembled in three weeks. "It was phenomenal," Richard recalls. 
Online, they found ArchiBlox, a Victoria-based prefab company with a portfolio of modular houses in New South Wales, and the couple turned to the firm to design their 1,140-square-foot retreat. "We can do a single dwelling much quicker than a traditional site build," says managing director Bill McCorkell. After a two-month design process and five months to secure proper permits, the house was installed on-site in just six weeks, meeting the clients' deadline. 
Beyond its speedy construction time, prefab suited the couple's desire to tread lightly on the land. With modular building, "the impact on the surrounding environment is heavily reduced during construction," Richard says. The house, located above Avalon Beach, is elevated on structural posts in order to reduce water flow, which could create erosion on the cliff's edge. 
The dwelling is also outfitted with a number of green features, including a living roof that minimizes rainwater runoff and an east-west orientation that allows cross-ventilation. By fabricating off-site, ArchiBlox also had careful control over material usage. "We have much better resources to pick out building supplies for our design," McCorkell says. "From the start, we designed this particular structure to maximize materials and minimize waste." 
McCorkell hopes the benefits of prefab will continue to be promoted throughout the country. "Prefabricated dwellings were first brought into Australia during the gold rush years of the 1850s as a way to combat housing shortages," he says. "We are still combating a shortage in the Australian market for architect-designed sustainable dwellings that are affordable. That market is definitely here to stay and will only grow in the coming years."
Log in or register to post comments