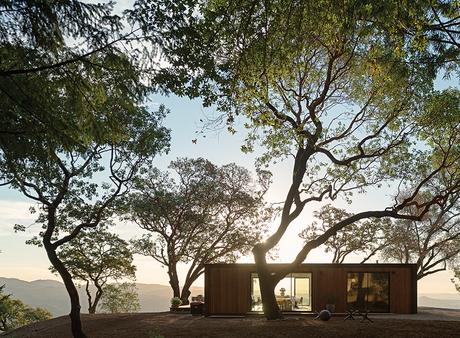 A 1,600-square-foot in-law unit in Sonoma, California, has two bedrooms and two baths for its 87-year-old resident, whose daughter lives nearby. "The layout is well-suited for older clients," says Jared Levy of Connect:Homes. "It feels generous and open." Project  Connect 5 House Architect  Connect Homes
Knowing when to step in to assist an aging parent is a tricky business. As one Northern California woman can attest, it's an endeavor that requires both tact and courage—and perhaps a leap of faith on both sides.
Even before her mother—now 87—gave up driving, the daughter had begun thinking of how to move her closer. She and her husband live on a hillside property in Sonoma comprising four mostly undeveloped lots with stunning views of the valley. "She loved her house, but she was very concerned about imposing on us," the daughter recalls. "I envisioned her living here, but I had to wait for the idea to ripen."
The plan took shape: a prefab house down the hill from the couple's own home. Though her mother, a painter, was in good health, she'd had several falls and depended on assistance from caregivers.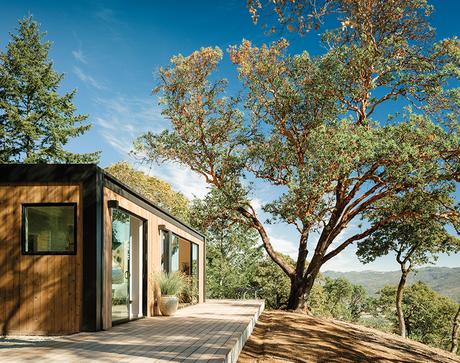 Though the daughter didn't want all-glass walls, natural light and airflow were key. Levy and Connect:Homes fellow cofounder Gordon Stott used an LED system to offset light from windows and doors. Says Stott, "It's about 150 watts to light the whole house."
Enter Jared Levy and Gordon Stott of Connect:Homes in Los Angeles. After spending six years at Marmol Radziner Prefab, the architects have been exploring ways to improve how modular homes are made, delivered, and installed. Their 1,600-square-foot two-bedroom, two-bath Connect 5 model offered the best fit. "It was large enough that it felt like a home and not a cabin in the woods," Levy explains.
Working closely with the architects, the daughter tweaked the design to suit her mother's tastes and needs, removing the covered entry deck to increase the size of the open-plan living room and opting for drywall instead of an exposed metal ceiling. To ensure accessibility, they eliminated all steps and incorporated features like a drawer dishwasher, a walk-in tub, and an efficient laundry room. A second bedroom affords space for a live-in caregiver. 
The house was completed at a third of the cost of a similarly equipped, conventionally built home—about $165 per square foot delivered and installed, not including upgrades and site costs. "And we got it done in about one-third the time," Levy notes.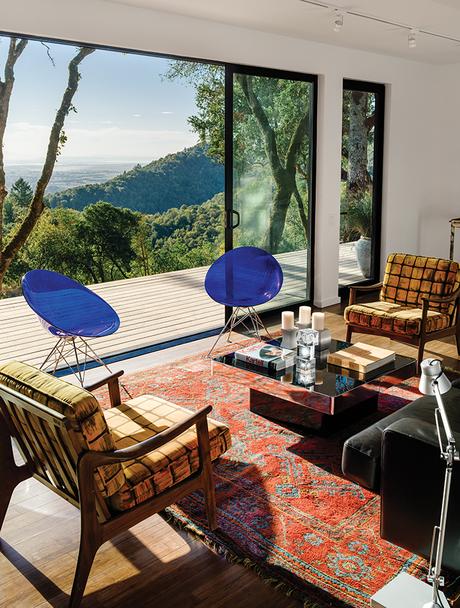 In the living room, interior designer
Meredith Rebolledo
of Ma(i)sonry Napa Valley paired pieces like Philippe Starck's Eros chairs for Kartell and two 1960s Swedish chairs with the client's Oushak rug.
A year after the project began, the mother walked her dog into the house, which was furnished with a mix of objects from her former home and new pieces obtained by interior designer Meredith Rebolledo of Ma(i)sonry Napa Valley. "It was," says the daughter, "just a homey place to live."
Most mornings, the mother gets up before dawn and goes to her deck to watch the sun rise. "The floor plan makes everything easy because it's so open," she says. "Whatever I need seems to be right in front of me. And there's light everywhere—I can see my wrinkles better, but I can also do my art better."
Her daughter stops in throughout the day to visit and to keep an eye on things. "My mom is the coolest lady—I wanted her to be close and comfortable." She smiles. "She's always wanted chickens, so that's the next thing." 
Log in or register to post comments