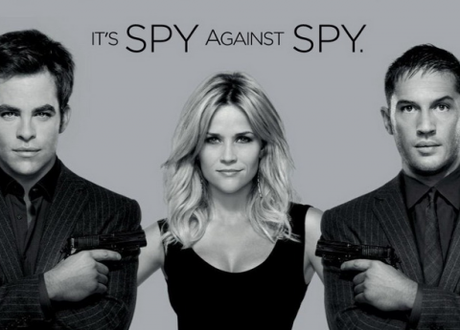 Film poster for This Means War
This Means War is director McG's new action movie which sees CIA agents Franklin – FDR to his friends -  (played by Chris Pine) and Tuck (Tom Hardy), previously best friends, falling out over Reese Witherspoon (who wouldn't?), who plays Lauren Scott, a workaholic, talkative product researcher, as you do. The two spies use all their covert intelligence skills to outdo each other to win Witherspoon's hand. It's a sort of rom-com action flick. Critics are largely falling over themselves to condemn it; but one or two seem to have enjoyed it.
It's not bad. There's a lot of "high-octane, high-tech action in this "hit-and-miss affair", said Betsy Sharkey in the Los Angeles Times. There's not so much romance – but there's a lot of "bromance." Hardy and Pine truly "sizzle." This is McG's "slickest" film yet, and "If you can get past the gross invasion of privacy issues that would exist if this is real life", then what you get is "some bittersweet fun peppered by bursts of sharp patter." Hardy and Pune "balance their characters' cynicism with a certain sweetness." And as for Witherspoon – though she's not back in the premier league, there are "occasional flashes of some of the better past live's she's had." Geoff Berkshire on Metromix had the highest praise for the film, calling it an "agreeably dim-witted affair."
War? More like an arm-wrestle. Not so, said Peter Debruge in Variety. The action's pretty mid-level – there was more in McG's Charlie's Angels efforts. And actually, the film belongs to Witherspoon. As the two agents vie for Lauren's affections, the film quickly turns "from frat-boy fantasy to female fulfillment, in which bachelorettes can imagine themselves being pursued by two hyper-attentive suitors." The spy background could have given Witherspoon a bit of the action, but in fact is simply a "ruse" to explain the "genuinely creepy stalker behavior" of the two agents as they monitor her every move. Ultimately, the film is "more like an arm-wrestling match than a full-blown war."
"The title could be the battle-cry of anyone who buys a ticket to this mess. Better to be a conscientious objector and avoid this mirthless skirmish," said Marshall Fine on Hollywood & Fine.
DOA. This Means War is a "pharmacologically induced state of general anesthesia," said Rex Reed the New York Observer. McG is a "hack" who's given us the "trash" of Charlie's Anges and Terminator Salvation. It's "98 minutes of moronic stupidity." As CIA agents, Hardy and Pine "have all the credibility of Abbott and Costello." The film is "dead on arrival and not even Ms Witherspoon can save it."
Detergent ads have been better. Joshua Rothkopf on Time Out New York was equally disdainful: it's a "harsh" film, which is "Charmless and histrionic" and even "mean-spirited." "Every plot point is telegraphed, yet given the usual conventions of these triangulations, it's still possible to wince at the awful ending, a focus-group-tested option that actually has Lauren picking the lamer of two jerks."  Ethan Alter on Television Without Pity puts it in a nutshell: the film has  "all the style and panache of a detergent ad."
Watch the "action-packed" trailer here