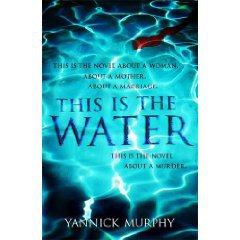 Contemporary Fiction
4*'s
This is a book about swimming, suicide, an unhappy marriage, rape and a killer so quite a bit to pack into one book! Yannick Murphy writes in a stylistic way, with the words 'This is…' framing the time, place and emotions. It took me a while to get used to the repetition. The use of the second person in the present tense added to the unusual reading experience and at first I feared this was a novel that concentrated more on the style than the substance, I soon changed my mind.
Told mainly from the perspective of Annie, one of the 'swim moms' at the local competitive team a lot of the action takes place in the swimming facility. Annie is the mother to two daughters, in a marriage where she doesn't feel valued and the sister of Thomas a man who committed suicide two years previously. Her thoughts are highly introspective as she reflects on Thomas and her marriage as she drives backwards and forwards to swimming practice or to away swimming meets where the highly competitive atmosphere seems far more important to the parents than most of the young swimmers. There are some truly awful characters and some less awful ones. This book has lots of layers which almost force you to slow down and savour, To learn about Chris, who is beautiful but worried that her husband Paul is having an affair, to find out what Mandy the pool facility cleaner who sweeps around with her mop, observing the parents is thinking, and to be appalled at what the strange man who watches the young swimmers might be planning to do.
When a young woman is found with her throat slit at local rest-stop, the atmosphere becomes tense and claustrophobic with the parents desperate to keep their daughters safe. Their characters become more exaggerated as they struggle to contain their fears, but although there is a mystery and a murderer to be found this book is so much more than a murder mystery.
There were parts of this book that felt very repetitive, I for one got that the specially designed 'go-faster swimsuits' were difficult to put on and endless descriptions of heaving these torturous outfits over young girls rears added little to the story. However the descriptions of Annie's daughters sitting in the car after swimming, eating their snacks, reading their books and ignoring their mother and then out of the blue asking something startling is something that I expect will resonate with many parents.
So despite struggling through the first couple of chapters I soon became hooked. I wanted to know more about the killer but I also wanted to know how Annie was coping? Whether Chris's husband Paul was having an affair? Who horrible Dinah was going to upset next, and how? The reason I cared was because they were characters that were recognisable but not turned into caricatures.
I'd recommend this book to anyone who would like to read something a little unusual with the warning that I think this may well be one of those books that you either love or hate. I for one will be looking out for more by this author.
I received my copy of this unique book from Amazon Vine in return for my honest review.