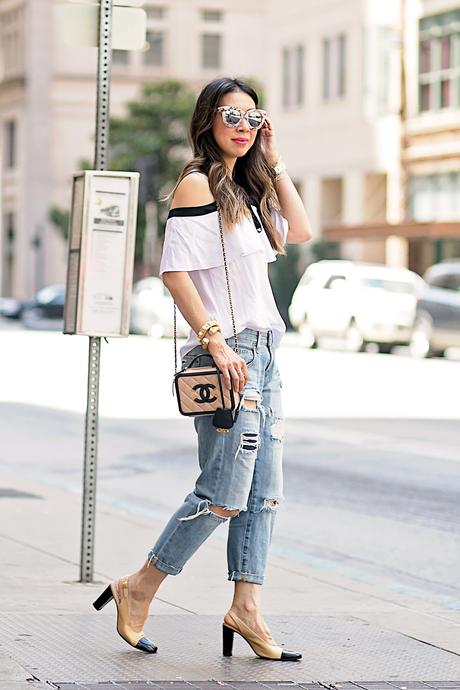 I'm actually in the streets of Dallas, and this black and white ruffle off the shoulder top is one of the tops I purchased during my shopping frenzy. Although I regret buying SO MANY things like a mad woman, I still love this top. I wore it to Target the other day and some other mommas literally stopped me to ask where I got it.
// Other GORGEOUS Cold Shoulder Tops //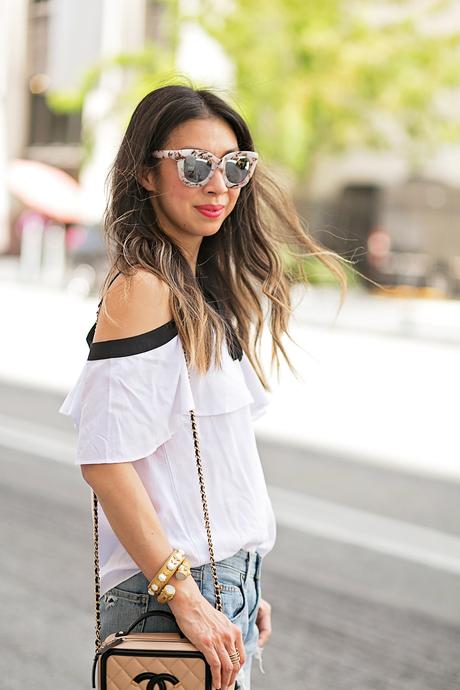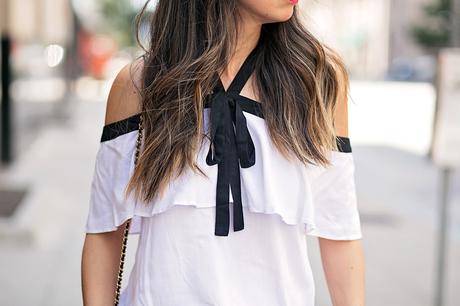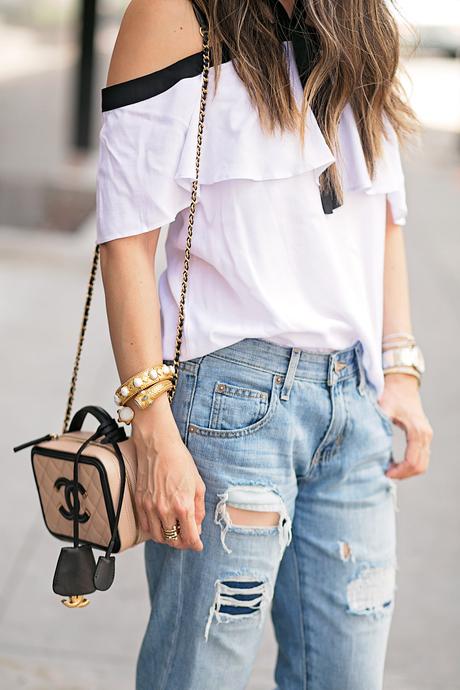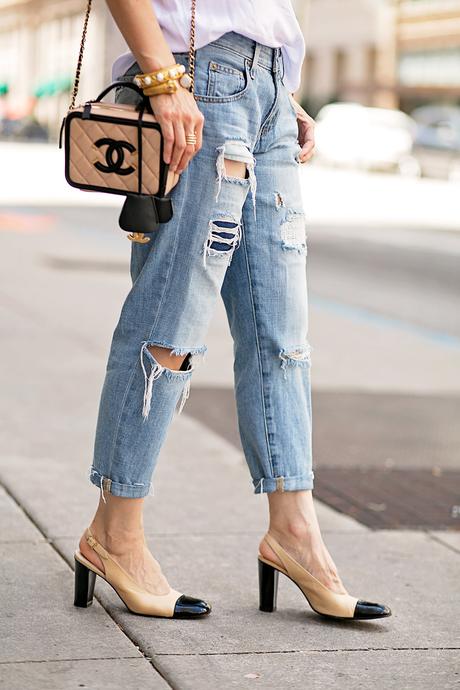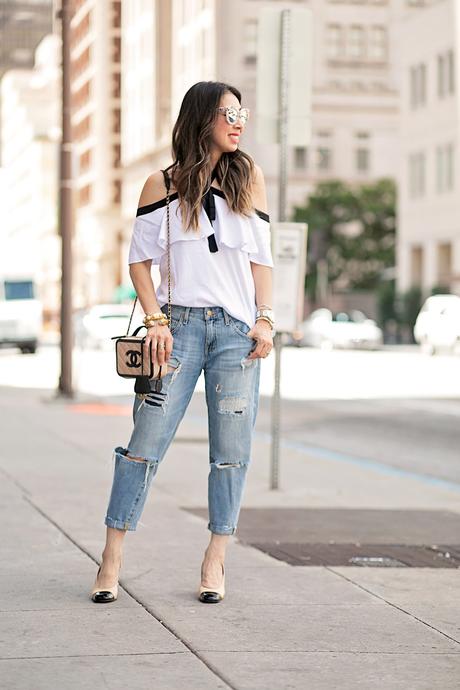 // Photography by Angie Garcia //
Because of the ruffles, I knew that boyfriend jeans would be a perfect pairing. Sometimes, you need a little "rough around the edges" so a top like this won't look so precious. I've also worn it with cropped jeans and wedges. (FYI, they were a DIY project with a pair of old jeans. Just chop off the bottoms and then wash for a raw hem. Voila!)
I can't wait to wear it in Fall/Winter with black skinny jeans, a moto jacket, and booties! This neckline will look so interesting with a jacket/blazer over it. (I've done it before here in this Fendi dress!) Additionally, I can wear this top reversed so the bow in the back and wear my hair up for a completely different look! I love multi-use pieces! :)
THE STYLE Rx: A ruffle off the shoulder top can be a fun way to change up your wardrobe. It can be feminine with a slim pencil skirt and heels or edgy like I've worn with boyfriend jeans and cap-toe slingbacks. Don't be afraid to wear off the shoulder in Winter by warming it up with a jacket/coat.
This top is actually inspired by the Alexis top. This was one of our choices for Chic at Every Age, and Cathy recognized it as an "inspired by" designer top. Of course, I'm in a baby/toddler bubble, so I am not always aware of all the latest fashion happenings.
So what are your thoughts on wearing the cold shoulder in Winter? I think it's a fun trend to try this season. I've seen a lot of cold shoulder sweaters recently, and I have one From Grandma with Love that I plan on wearing with leather leggings.
I am having some FOMO (fear of missing out - I had to google when someone first used that) seeing all the NYFW posts! I can always go to another Fashion Week, but my babies will be babies for only a little while. As my sweet friend Maci said, the days are long but the years are short with children. Such a good saying to remember when things get a little difficult.
Hope everyone had a great week! No one is sick (crossing fingers), so we are doing good! I can't wait for the weekend and looking forward to family time. Last week, Little M was ill, so we were home A LOT! Have a beautiful and blessed weekend y'all!
GET THE LOOK
ruffle cold shoulder top STORETS {sold out, similar for less or more}
boyfriend jeans TARGET {sold out, similar}
bracelets JULIE VOS, JULIE VOS c/o
ring MICHAEL KORS c/o
slingbacks VINTAGE CHANEL { similar for less}
vanity bag CHANEL { similar for less}
sunglasses QUAY
lipstick RODIN in WINKS