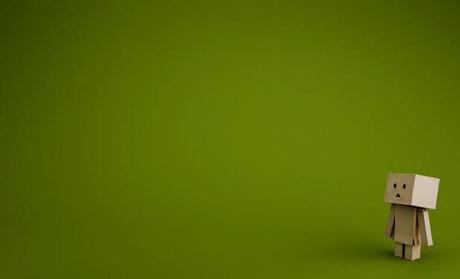 Tried to find a reading manga related pic. Was none I liked. Decided to go with Danbo instead.
Well, I did the legal anime list so it was only a matter of time before I worked on the manga list.
Admittedly though, I already have to start with a couple of extra notes before actually starting with the list. For starters, there's really not a lot of legal manga sites out there. (Unless I missed any, that means you need to tell me in the comments or shoot an email to me.) And with the amount of manga that is out there, you can bet you're missing a lot. Another note, I didn't exactly check to find out if other countries's online/tablet manga services are around or not. You can let me know if this is the case, following the format I have set in this post. Final note is when you check out some of these places, you notice how a good portion of these also have user submitted content or are really old. This is the current state of legal online manga in 2013, and at this point, it's not changing anytime soon. 
That being said, there is legal manga out and about, and a good portion of them are available to a large audience (so don't say there's none out there). I will need your help on a few of them, as you may be able to get access to some of them in your country, but I can't be all that certain. Anyways, enough of me talking about much of nothing, and let's get to listing.
Table of Contents
Emanga

Manga Reborn

Gen Manga

Viz Media

Weekly Shonen Jump

Netcomics

Kodansha USA

Yen Press

Vertical Inc.

Dark Horse Comics

Seven Seas

J-Comi (JP)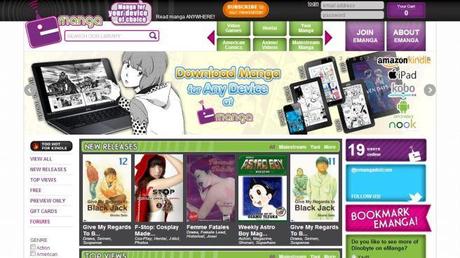 Where you can read it: It's a worldwide service.
How you can read it: Bunch of ways: you can download it in 7 formats (PRC, MOBI, EPUB, PDF, CBZ, Apple EPUB, Kobo EPUB), for a bunch of devices, though it depends for some: PC, iPhone, iPad, iPod, Kindle, Kindle Fire, Android, Nook 6", Nook Color, Kobo 6", Kobo Tablets, Sony Readers, Linux, Mac, Windows, and Palm OS, Windows Mobile, Motorola Xoom, Abode Digital Editions, Blackberry, Bebook, Aluratek Libre Pro, Cybook Opus, Digital Reader 1000, EZ Reader by Astak, Hanlin, iLiad, iRiver Story.
Anything Extra: Registration here
Email: customerservice@emanga.com
Social Media: Twitter, Facebook
They have just about every type of manga you want: Shoujo, Shounen, Seinen, Josei, Yaoi, Yuri, Hentai, the works. They are pretty pricey though, ranging from the $9.99 range or higher for a good portion of their titles. As far as I know, most people don't like to spend that much for physical books; they'll probably just laugh at seeing the prices here. Otherwise, they're one of the few publishers that actually allows you to have files for you to keep.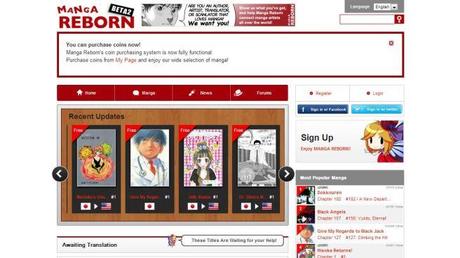 Where you can read it: Anywhere it seems: US, France, Japan, etc…
How you can read it: Looks like you can read it online, though you can download the pages.
Anything Extra: About Mangareborn here
Social Media: Twitter
MangaReborn is the most interesting site I've come across with arguably the strangest design choice ever. Interesting in that it's a legal translation site where translators can translate manga, people can upload their manga and get it translated into an assortment of languages, and there's a ton of classic manga that you know you won't find anywhere elsewhere (like The V Sign). The problem is it is such a mess of a design that I can already bet anyone without the foggiest idea of reading manga online, or someone who's just trying to even get into manga, having trouble figuring out what's worth a read, what's actually readable and not just translations that need to be localized, and what Manga Reborn's all about (for example, the about page/contact info is all the way at the bottom). If there is some good news, this is still in Beta. How long it will remain in this state who knows, but for the sake of good reading, let's hope the design is a bit better than it is now.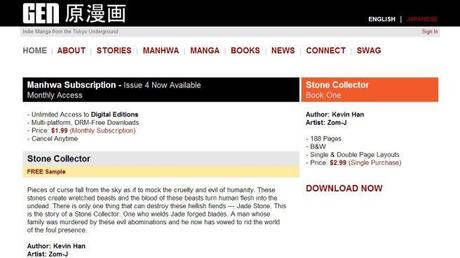 Where you can read it: Looks to just be US, CAN, and UK only. Let me know if there are other locations.
How you can read it: You can download the manga to your PC, give it a read on iTunes.
Anything Extra: Social Media: Twitter, Facebook, Youtube, Tumblr, Pinterest
Out of all the publishers on the list, Gen Manga has been pretty out front with their intentions: they publish manga from unknown manga artists in Japan that, for various reasons, couldn't get published in a JP Magazine. You can take that as either a sign that they just aren't good enough or a sign that JP Magazines don't know what they're looking for/just don't want good manga. Hence why you'll get either some really fun manga (Wolf) or some pretty forgettable ones (Alive). However, at the price they're commanding for a monthly subscription ($1.99 a month), it's hard to say you'll lose anything by not getting a subscription from them. Just make sure you have the time to read monthly!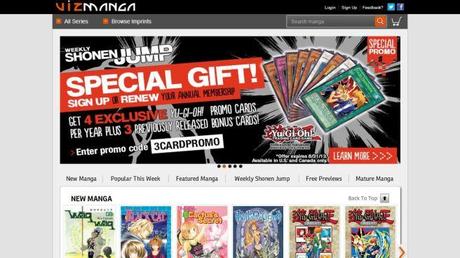 Where you can read it: US and Canada only.
How you can read it: On your PC, iPad, iPhone, iPod Touch, Android, Kindle Fire
Anything Extra: Email: customer_service@viz.com
Social Media: Twitter, Facebook
Viz has been around the block too long, so mustering up any sort of critique is kind of useless for the most part. I do have one though, but I'll get to that in the WSJ section. For now, they have some pretty cheap titles (nothing like Emanga's), as they range around the $3.99-4.99 pile. Don't know if that's because everything's on sale at the moment, but the point is the digital manga is way cheaper than print. And with their various demographic lines, you have plenty of options.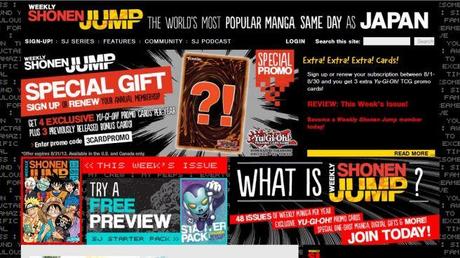 Where you can read it: US, CAN, UK, Ireland, Australia, New Zealand, South Africa.
How you can read it: Same as Viz Manga: PC, iPad, iPhone, iPod Touch, Android, Kindle Fire.
Anything Extra: Email: sjsupport@viz.com
Social Media: Twitter
I left a link to the WSJ page, but you'll be reading your issues on Viz Manga.
Decided to separate Viz Manga and Weekly Shonen Jump for a few reasons. I think the obvious is that this is the only publication that's actually concurrent with anything in Japan (though from what the all knowing eye tells me, it's a simultaneous publication that gets negated when the most popular manga are out a few days ahead of this release every Monday). This also allows more readers in other countries as well, so that's a few changes right there.
Now aside from it being a weekly issue, it's the same as Viz Manga, which means the only issue that should be of worry for anyone is the fact that they say you can keep all your issues of WSJ forever, but I'm curious of that, since you can't actually download it to your PC (You may be able to on your mobile devices though). If the unthinkable happens and the online site is gone, exactly how will one keep their issues of WSJ? For me, it doesn't matter, but there are those who see it as a problem. Otherwise, this and for some, being able to get back issues of WSJ may be the only other problem here. I think people want to see more Shonen Jump manga on WSJ and I would be all for that too, but they've had a lot of stuff running for a while, so I'd say it's not a problem right now.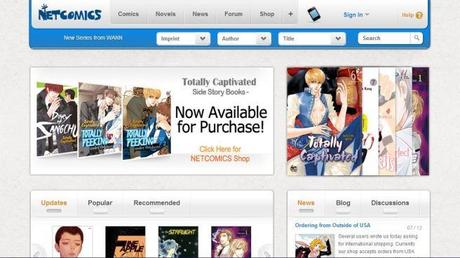 Where you can read it: As far as I can tell, US and Canada? Might be more though.
How you can read it: Online
Anything Extra: At this point, I'm not exactly sure what's there to say about NETCOMICS, because it feels like they've silently or are silently leaving the manga market. Ok, also manhwa. There's rarely any news about them, they haven't used their social media account in forever, and the website doesn't look all that active anymore. It does look like you can still make purchases. Now whether you want to pay $.25c for a chapter of a comic, that'll be up to you. And there might be some gems on the site. It's pretty concerning though, when a company is not out there though…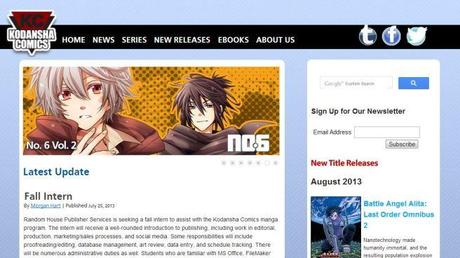 Where you can read it: US and Canada
How you can read it: You can buy their titles in eBook format for it looks like Kindle, Nook, and Apple's iBookstore.
Anything Extra: Link to Ebook samplers on the Ebooks page.
I haven't been able to test out any of Kodansha's manga (aside from the print stuff of course) because it's only stuff for mobile devices. The part where I go poor PCs everywhere. Although I did end up finding an Attack on Titan sample at Random House, but man is that not really visible on the website. Anyways, you'll either like what titles they have, or don't like what they have, and have to pay the exact amount for digital as you would in print. Otherwise, for those who have tested out reading Kodansha manga on various tablets, feel free to share what you think of them below.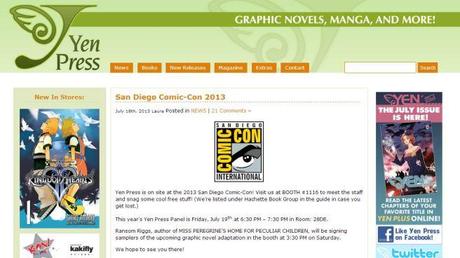 Where you can read it: US it looks like. Canada might be as well.
How you can read it: Looks like they have their own online reader, and they have a Yen Press app.
Anything Extra: Subscription is actually fairly cheap ($2.99).
The one problem: they're only serializing one manga (Soul Eater NOT), and the rest are either graphic novels or manhwa. I mean, you have a legit way of reading the series, but what's up with that being the only manga being released monthly? Well, whatever the case, if you're a general comic nut this could be worth a subscription, but otherwise, it'll be up to you if you want to check out the magazine.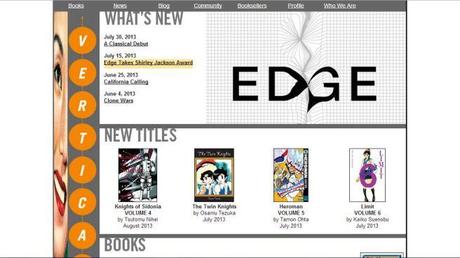 Where you can read it: US and Canada.
How you can read it: Kindle, Nook, iBooks
Anything Extra: As of this post, their only released digital titles are Twin Spica, 7 Billion Needles, and Drops of God.
Well, I think a number of people (that includes me) have asked Vertical (ok specifically Ed), "when are you guys going digital? What's taking you so long? Why don't speed things up–" and whatnot, and the finally managed to do so this year. Of course I can't tell because they don't have it for PC, but you have it for various apps. There's only a few titles available though, but it will be interesting to see what will eventually be up for sale.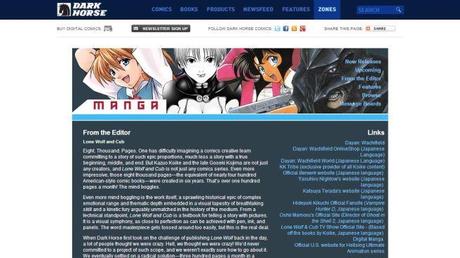 Where can you read it: Not sure for the most part. I say that because some titles have region restrictions, so it depends on where you are. Safe to say US and Canada will get most of the titles though.
How you can read it: PC, iOS, Android, Kindle, Kindle Fire, Kobo Vox, Nook, Nook Color,
Anything Extra: Entire Digital Catalog
Well, the issue is you don't get to keep your files if pray tell the site ends up going down. But this is Dark Horse, and chances are they'll be around for a good while. There are some pretty interesting titles that are cheap digitally, so you may want to take a look around and see what they got.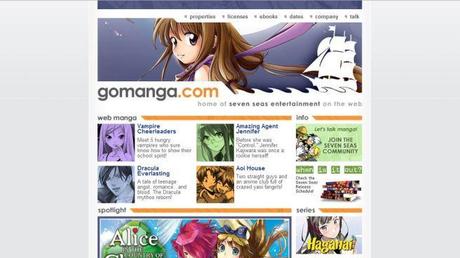 Where you can read it: US and Canada.
How you can read it: Kindle, Nook, iPad
Anything Extra: List of Ebook titles
Not really much I can say on Seven Seas, though the only thing I can say is that I remember a year ago where they were around, but not all that active. You can pretty much bet that that has changed from now, and at least these guys can hold the distinction that they are one of the few manga publishers to be on Comixology (along with Digital Manga). But if you've checked out any of their titles via the devices listed above, let me know and I'll add that part here.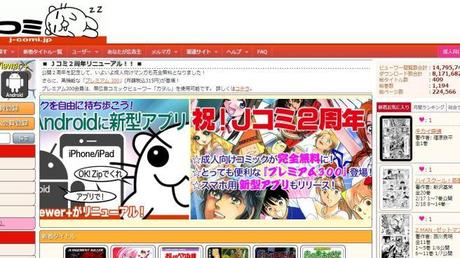 Where you can read it: You can read it anywhere…but you probably want to know Japanese to actually know what's going on.
How you can read it: At this point, I can't even tell. Anyone who's good in Japanese want to help me out with that?
Anything Extra: The only thing extra I can honestly provide is the fact that I remember some years ago an English version of J-Comi came out in Beta form. This was in 2011. It is now 2013, and so far, not a peep about it or the service (at least for everyone else not in Japan) since. With a site that allows out of print titles to be available, it would be great if it did get that English version up sometime soon…